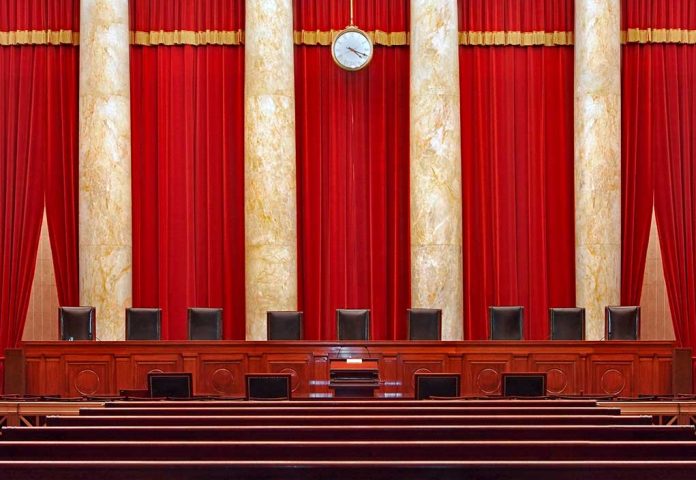 Are Democrats Planning to SABOTAGE America's Justice System?
(RepublicanReport.org) – The debate around expanding the nation's highest court has reignited. The suspected cause for the renewed interest is Politico's bombshell report on a leaked draft opinion from the US Supreme Court indicating the justices may vote to overturn Roe v. Wade. Democrats like Rep. Ilhan Omar (D-MN) have openly advocated packing the Supreme Court in a bid to preserve the precedent. Now, one senior Republican is floating an idea as to how they might try to achieve it.
Overturning Roe would put the lives of women across the country at risk. It would fly in the face of decades of precedent and the overwhelming majority of public opinion. And they will not stop here.

Expand the court. https://t.co/EDktEETxvb

— Ilhan Omar (@IlhanMN) May 3, 2022
In an exclusive Daily Caller interview on Wednesday, May 4, Senator Marsha Blackburn (R-TN) speculated the Democrats could try to put Ketanji Brown Jackson on the bench before Justice Stephen Breyer retires. This would put four liberal appointees on the court out of a total of ten.
Blackburn noted President Joe Biden has already signed Jackson's commission papers. She mused the Democrats could use these papers to get Brown Jackson on the court before Breyer steps down. The Senate confirmed Jackson's nomination earlier this year with the intention of her tenure beginning after Breyer's retirement, which is scheduled to take place after the current SCOTUS session.
Blackburn also offered scathing criticism of Senate Majority Leader Chuck Schumer (D-NY), stating he was trying to undermine the legitimacy of the Supreme Court.
Do you think we need to worry about Democrats putting Ketanji Brown Jackson on the bench before Stephen Breyer retires?
Copyright 2022, RepublicanReport.org