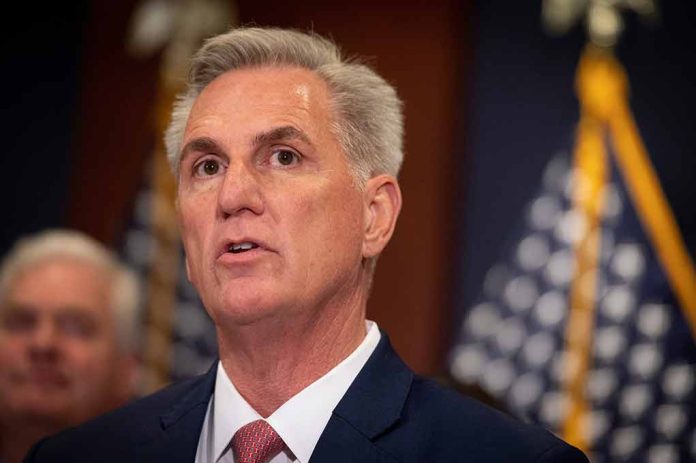 (RepublicanReport.org) – President Joe Biden and House Speaker Kevin McCarthy (R-CA) came to an agreement to raise the debt ceiling and save the United States from a devastating default set to hit in mere days. On May 31, the bill passed the House by a vote of 314 to 117 and passed the Senate the next evening with a vote of 63 to 36. The deal quickly headed to the president's desk for approval, but not everyone was happy.
Before the deal reached the House floor, Representative Dan Bishop (R-NC) told POLITICO he would consider calling for a vote to oust McCarthy from his position. In order to gain his position as speaker, the California legislator made a stipulation that allowed any single House member to trigger a removal vote. When asked on CNN if he intended to follow through on his words, Bishop said, "Well, we'll see." If he does decide to move forward, the North Carolina rep might not be alone in his quest to remove the House speaker.
A reporter asked Representative Scott Perry (R-PA) if he would file a motion to vacate the chair if the bill passed and he wouldn't commit to the move, but he left open the possibility. He stated the focus was on defeating the bill, and he would focus on other matters after the crisis was over. POLITICO reported that Representative Ken Buck (R-CO) raised the issue of McCarthy's future as leader of the House on a call with other House Freedom Caucus members. He reportedly said McCarthy broke his promise that put him in the seat in January. Representative Matt Gaetz (R-FL) could also be on board with removing the speaker. On May 30, he told Newsmax that McCarthy might lose his job if he used Democrats to pass the debt ceiling deal through the House — and he did.
As of yet, nobody has filed a formal motion to oust House Speaker McCarthy. Do you think other House members will join Bishop and the others to call for his removal?
Copyright 2023, RepublicanReport.org