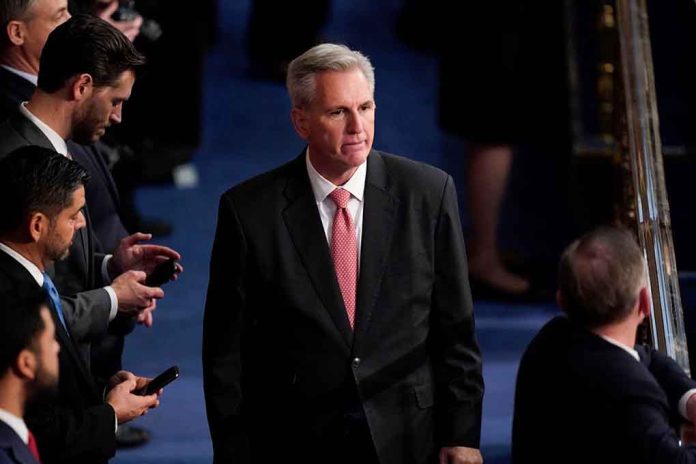 (RepublicanReport.org) – Earlier this year, House Speaker Kevin McCarthy expressed a desire to follow in his predecessor's footsteps and fly to Taiwan to meet with President Tsai Ing-wen. However, the two parties have since agreed that in order to avoid an aggressive response from Beijing, meeting on US soil would be better. The meeting, which is to take place in early April, is significant given China's long-standing claim over the island nation and its recent military activity in the region.
House Speaker Kevin McCarthy is set to meet Taiwanese President Tsai Ing-wen in the U.S. instead of her home island, which China considers to be a breakaway province, according to a new report. https://t.co/M2HVBzLmKK

— The Washington Times (@WashTimes) March 7, 2023
According to The Financial Times, a senior Taiwanese official revealed that the nation shared intelligence with McCarthy's team about threats the Chinese Communist Party posed. The official also indicated that China is currently in a precarious situation, with more decisions made by its leader, President Xi Jinping, and those closest to him. McCarthy and House Republicans have taken a hardline position on China, setting up a bipartisan committee to investigate the Asian country's growing international influence.
President Tsai will be visiting California and New York as part of a trip to Central America and has accepted an invitation to speak at the Reagan Library in southern California. The location of the meeting and Tsai's speech will be closely watched, given the potential for tensions with China. The visit comes a few months after the US military shot down a spy balloon, which China claims was a weather balloon, further heightening tensions between the two countries.
If McCarthy made the voyage to Taiwan, it would've been the second consecutive year that a Speaker of the House visited the island nation. Pelosi made the trip in August 2022, which led to warnings from China and military drills near the island. Despite China's objections, Pelosi's visit was a success, and her journey signaled a willingness to challenge China's territorial claims. It seems McCarthy is willing to follow this same path.
Copyright 2023, RepublicanReport.org