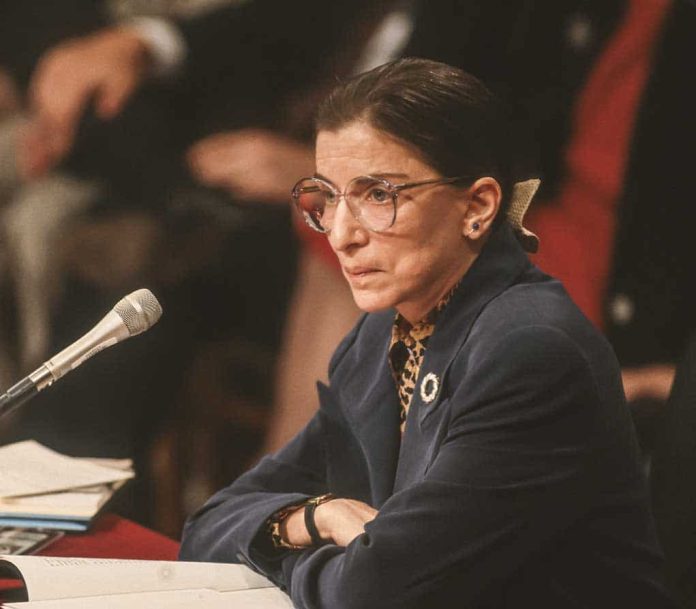 (RepublicanReport.org) – Late Supreme Court Justice Ruth Bader Ginsburg was a hero to many of America's Liberals. However, she wasn't afraid to speak her mind when she disagreed with a left-wing stance on a given issue. In 2016, for example, Ginsburg drew the ire of many on the Left when she called protests during the national anthem "dumb and disrespectful." In an interesting twist, it's now come to light she said more on the topic.
Journalist Katie Couric, who conducted the interview in which Ginsburg made this remark, is in the process of releasing her memoir, entitled Going There. On Wednesday, October 13, The Daily Mail released excerpts from the book in which Couric admits Ginsburg made more controversial remarks on the subject. Ginsburg reportedly said that players kneeling during the anthem showed "contempt" for a system of government that improved the lives of their parents and grandparents.
Katie Couric says she cut quotes from an interview with RBG in 2016 where the SCOTUS Justice said that kneeling during the National Anthem shows a "contempt for a government that has made it possible for their parents & grandparents to live a decent life."https://t.co/XBnopuptSu

— Jerry Dunleavy (@JerryDunleavy) October 13, 2021
In the book, Couric relates that she decided to omit this remark to protect Ruth Bader Ginsburg's reputation. Couric thought Ginsburg (who was a sitting Supreme Court justice at the time) was incapable of fully understanding the question because of her advanced age.
Couric has attracted plenty of criticism from online commentators over this revelation. Many feel it was not her place to question the intentions or mental competence of a woman like Justice Ginsburg.
Copyright 2021, RepublicanReport.org