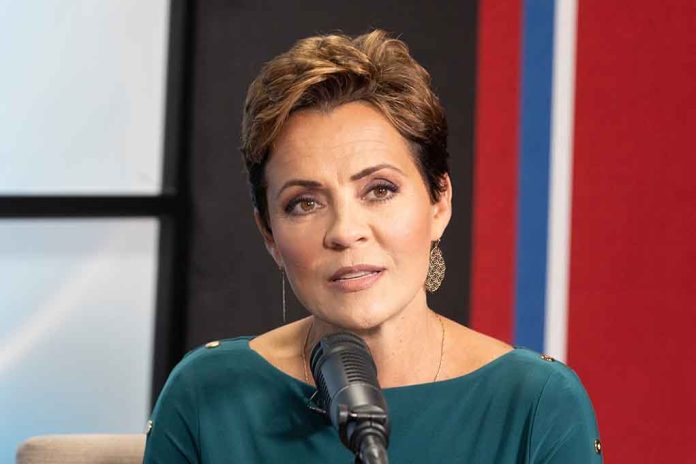 (RepublicanReport.org) – While former President Donald Trump continues to claim the 2020 presidential election was stolen and filled with fraud, many of his allies have made similar claims about that voting season and others. In Arizona, former news anchor and now-politician Kari Lake (R) touted such opinions, going so far as to take her legal claims to court. However, her last lawsuit failed to pass muster, bringing her attempt to overturn the 2022 gubernatorial election results to an end.
Lake Runs for Arizona Governor in 2022
In November 2022, Lake faced off against Katie Hobbs (D), who, at the time, was the state's secretary of state, for a spot in the governor's mansion. The Democratic candidate took the lead with 50.33% of the votes compared to Lake's 49.67%. Even with an endorsement from Trump at the time, Lake could not overcome the 17,000 vote difference between herself and Hobbs.
In the following weeks, Lake claimed that vote-counting machines malfunctioned, election volunteers did not ensure mail-in ballots were legitimate, and voters were denied the opportunity to cast their ballots. As she began taking these issues to court, none gained momentum.
The Last Legal Challenge Fails
Maricopa County Superior Court Judge Peter Thompson officially dismissed Lake's last lawsuit surrounding the 2022 election. This one claimed that ballot checkers in Maricopa County, the state's most populated area, did not spend enough time comparing the voter signatures on ballots to those on voting records. According to Fox News, Thompson discounted that argument, writing that there is no "minimum time for signature verification" written into law and comparing signatures actually takes "very little time." He did not believe Lake's legal team showed enough evidence to prove the signature verification process was faulty.
After Judge Thompson shared his dismissal, Maricopa County District 4 Supervisor Clint Hickman shared a statement saying "justice" was served to Lake for her "false claims."
What Does the Future Hold for Kari Lake?
It's no secret that Lake is close with presidential candidate Trump, and many people believe she is on his shortlist for vice president if he clinches the GOP nomination. However, she is also eyeing a spot in the US Senate in the 2024 race. Currently, it seems Lake could compete against sitting Senator Kyrsten Sinema (I-AZ), who recently switched away from the Democratic party to become an Independent, and Representative Ruben Gallego (D-AZ). However, with a loyal base of followers, many think Lake could snag the Senate seat with Trump's endorsement.
Copyright 2023, RepublicanReport.org