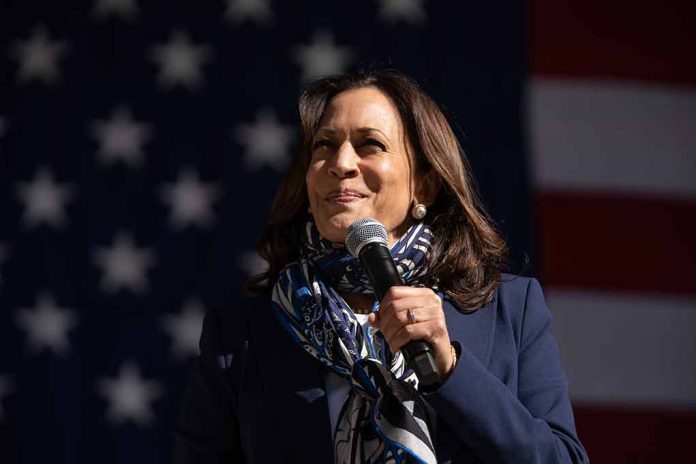 (RepublicanReport.org) – Some people had high hopes for Vice President Kamala Harris when she entered the White House alongside President Joe Biden in January 2021. She has repeatedly fumbled her words and job assignments during her time in office so far, leaving many Americans underwhelmed at the first woman to serve as second-in-command. Her latest awkward blunder happened at a recent roundtable discussion on the Americans with Disabilities Act in the Eisenhower Executive Office Building.
On Tuesday, July 11, Harris and Transportation Secretary Pete Buttigieg spoke about their work to make various aspects of transportation in America more easily available to Americans with disabilities. During the discussion, Harris pointed out, "This issue of transportation is fundamentally about just making sure that people have the ability to get where they need to go. It's that basic." This incredibly simplified comment produced lots of laughter on Twitter, especially amongst Conservatives mocking her for her so-called insight.
Fox News Radio's Tomi Lahren jokingly called her a "genius" on Twitter, while the network's columnist Liz Peek called the comment "insightful." GOP Digital Strategist Alec Sears declared that Harris "solved" the issue of transportation in the US, clearly making fun of her dumbed-down version of the problems that citizens face when trying to get from point A to B. Radio host Julie Gunlock referred to the VP as a "national treasure" when sharing a video of her comments. The others were just as relentless.
Many people have called Harris out on her poor public speaking ability in the past, and this event and comments seemed to confirm those doubts. All in all, Conservatives have certainly expressed disappointment in Harris' job performance, and that might have spread to some Democrats, as well. However, despite her poor track record and floundering likeability, Harris is expected to be Biden's pick for VP yet again in 2024.
Copyright 2023, RepublicanReport.org