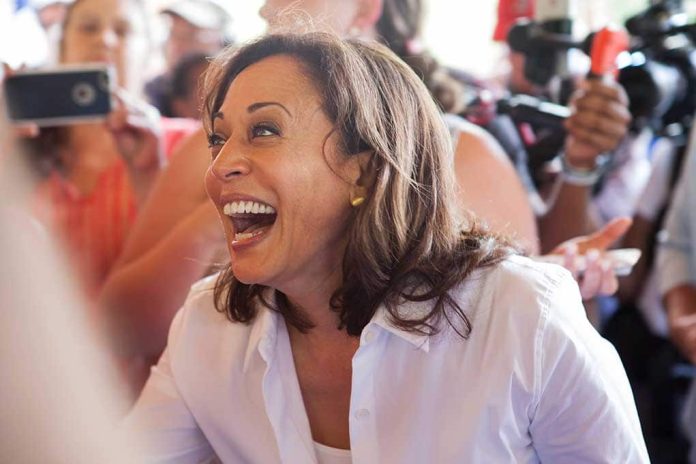 (RepublicanReport.org) – Earlier this year, Vice President Kamala Harris infamously chuckled that she hadn't "been to Europe" when a reporter asked her why she hadn't yet visited the US/Mexico border to observe the burgeoning crisis there. Now, it looks like she will finally cross the pond to Europe in an official capacity, still not having been to the border. And, her scheduled events and priorities are raising some eyebrows.
Vice President Harris is set to spend the week in Paris, France, mending diplomatic fences with France. However, one of her chief engagements will be an appearance at a donor meeting for Democracy Alliance, a group with ties to controversial billionaire philanthropist George Soros. That summit will include an event called "Discussion on Critical Race Theory" with Kimberlé Crenshaw, the academic who coined the controversial term.
BIG $: With progressive donors growing disenchanted with BIDEN, the administration is dispatching KAMALA HARRIS to speak virtually tomorrow (during her France trip) to a conference of the DEMOCRACY ALLIANCE club of major donors, @teddyschleifer reports. https://t.co/rqiC9ww3BU pic.twitter.com/JVqlQaf8DQ

— Kenneth P. Vogel (@kenvogel) November 8, 2021
Critical race theory and similar concepts have become a bone of contention in the United States, with many Democrats seeing them as vital to the teaching of our social history. However, the school of thought does not appear to hold much water in France; French President Emmanuel Macron was critical of the discipline in a recent interview with Elle magazine.
A number of political analysts have mused that CRT may have been part of the reason for recent dramatic Democratic losses. It does not appear these assessments have given Kamala Harris much pause for thought, however.
Copyright 2021, RepublicanReport.org