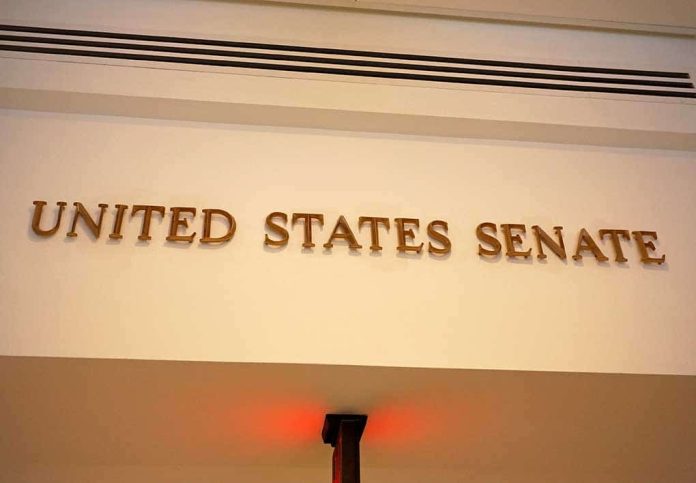 (RepublicanReport.org) – Senator Josh Hawley (R-MO) has never been one to shy away from expressing his point of view. He's made his voice heard on a number of critical issues in Congress, and this week he went after Attorney General Merrick Garland when the government lawyer appeared before the Senate.
"I Call on You to Resign"
On Wednesday, October 27, the AG appeared before the Senate over his introduction of a policy encouraging law enforcement agencies to target parents who protest at school board meetings.
As Senator Hawley pointed out at the outset of his interview of Garland, the White House also backed this policy before changing its tack. The president's office has since apologized for supporting the strategy, calling it a mistake, but Merrick Garland still believes it's the right avenue to pursue.
Hawley was unequivocal in his criticism of the move, accusing the attorney general of using the FBI and the Department of Justice (DOJ) as weapons. He called the directive "unprecedented" and said Garland should resign his post over it.
After the hearing, Hawley continued criticizing Garland via Twitter. The senator claimed that Garland wanted prosecutors to target parents when he issued his directive and has since realized this goal. To prove his point, Senator Hawley used the example of a man who was arrested at a school board meeting after protesting about the rape of his daughter in school.
Senator Ted Cruz (R-TX) was similarly upset with Garland during the hearing. Cruz stated his belief that the DOJ had been used as a political weapon for eight years during the Obama administration and pointed out that Garland had made a prior commitment not to politicize the department during his tenure. Cruz accused the AG of breaking that promise with his new guidance.
The Problem With School Boards
School boards have increasingly become a forum for heated debate. Parents and board members frequently find themselves at odds over issues like mask and vaccine mandates, critical race theory, and gender-neutral bathrooms.
Problems such as these came to a head in California recently. At a meeting of the Los Alamitos Unified School District Board of Education, the board president said "f— you" following a submission from a parent, not realizing her microphone was live. There have since been calls for her resignation.
So, what's the solution to this problem? Republican lawmakers appear united in their view that Merrick Garland's preferred strategy will not lead us anywhere good. Is there a better way to address the issue of hostility at school board meetings? Maybe we should let the local law enforcement tasked with handling these disputes do their jobs.
Copyright 2021, RepublicanReport.org