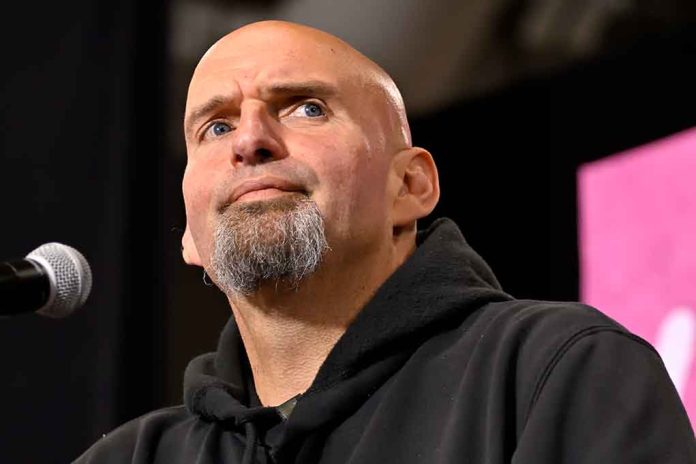 John Fetterman Refuses To Answer Key Question About His Health
(RepublicanReport.org) – The US Senate race in Pennsylvania between Democratic Lt. Gov. John Fetterman and Republican Dr. Mehmet Oz is one of the most keenly observed in the nation right now. Oz, who has the backing of former President Donald Trump, has recently been questioning Fetterman about his health, given the fact the Democrat suffered a stroke earlier this year. However, Fetterman is remaining firmly silent on the matter.
John Fetterman Snubs NBC Question, Leaves Voters in the Dark
On Tuesday, October 11, NBC aired an interview with Fetterman by Dasha Burns. During the conversation, Burns highlighted to Fetterman the uncertainty surrounding his well-being following his stroke in May. Evidence has emerged that he has some issues with auditory processing (meaning he struggles to understand what he hears) since the incident, and he has also exhibited slurred speech in some interviews and addresses. The Democrat's campaign team has noted these issues when explaining why he has had to refuse a series of five debates and cancel others with Oz.
Burns opined that Pennsylvania voters must currently "take [Fetterman's] word" that his health is strong enough for him to be a US senator. She pointed out that he declined to provide NBC with his medical records and to allow the network to speak with his medical team.
The candidate insisted he had been "transparent" with the media, stating he had provided medical records upon request previously. Burns quickly pointed out that these records were from six months ago, before he had his stroke. Fetterman responded that his public addresses and his hectic campaign travel schedule should be enough evidence for voters to "decide" whether he's sufficiently healthy to be a senator.
NBC: "We've asked for your medical records… you've declined. Why?"

Fetterman: "Our doctor has already given a record saying I'm ready to serve."

NBC: "That letter was six months ago. Don't voters deserve to know your status now?"

Fetterman: I do speeches and give interviews pic.twitter.com/5yDNvaeYdN

— Greg Price (@greg_price11) October 11, 2022
What Do the Numbers Say?
According to a polling meta-analysis from FiveThirtyEight, Fetterman has held a strong lead over Oz for a number of months, but the Republican is starting to catch up. Voter studies currently show the Democrat sitting between six and seven points ahead of his opponent, whereas polls in June and July put him between 9 and 11 points in the lead.
This race is seeking to find a replacement for retiring Republican Senator Pat Toomey. Should Fetterman claim the victory, he will increase the number of Senate Democrats and significantly increase the party's chances of holding the chamber.
How do you think Pennsylvania's Senate race will unfold? Will John Fetterman's health issues be a decisive factor?
Copyright 2022, RepublicanReport.org