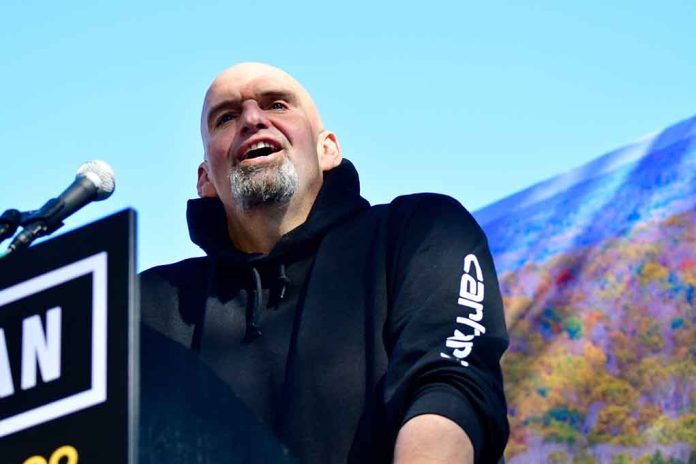 John Fetterman's Excuse For Debates? Closed-Captioning
(RepublicanReport.org) – Prior to Pennsylvania's US Senate debate on Tuesday, the Fetterman campaign released a statement explaining the former lieutenant governor's expected poor performance. While the debate hadn't happened yet, they apparently felt it would be a good idea to let people know that when it did, it wouldn't go well. After reminding the public of the candidate's stroke and subsequent physical limitations, they also went after the debate's closed-captioning system — which was in place at Fetterman's own request
The Campaign's Case
The issues brought forth on behalf of the Democrat came in eloquently-worded statements that placed the blame more on human error and assumed glitches that they believed would — and did — create issues for Fetterman. When the cameras shut down and the night came to an end, the campaign quickly got the word out that they were correct in assuming it wouldn't go well. Then they again blamed the closed captioning system for delays and errors in typing.
The errors and glitches they attributed to words on a screen, however, don't quite explain some of the odd behavior the candidate displayed in Harrisburg. He opened the evening by wishing everyone good night.
Fetterman opens the debate:

"Hi. Good night everybody." pic.twitter.com/mg0X3Iwf5D

— Greg Price (@greg_price11) October 26, 2022
During one of Dr. Oz's responses to a federal abortion conversation, Fetterman shouted out a seemingly unrelated statement about Dr. Oz's relationship with Republican State Senator Doug Mastriano:
John Fetterman just had an outburst interrupting Dr. Oz, seemingly having nothing to do with what he was saying:

"You roll with Doug Mastriano!" pic.twitter.com/SQTJKXPb2W

— Townhall.com (@townhallcom) October 26, 2022
When asked about his health, the leftist struggled through a response one might hope he would have practiced in advance, considering he reminded the audience himself of the "elephant in the room."
John Fetterman: "My doctoral believes that I'm fit to be serving and that's what I believe is where I'm standing."

WHAT? pic.twitter.com/uQFSSARTt2

— Steve Guest (@SteveGuest) October 26, 2022
The Captioning Company Says No Way
Nexstar, the company that provided the service at Fetterman's request, defended its technology and personnel, immediately denying the campaign's claims. According to its statement, the company not only provided an excellent product but worked with the candidate to ensure a smooth evening. It offered two separate training sessions, of which Fetterman attended only one.
Along with all of that, it also filled some last-minute requests and feel it not only did its job, but performed admirably. The company regrets that Mr. Fetterman doesn't feel the same.
Where They Stand
The Pennsylvania US Senate race is one of the most-watched in the country. The balance of power in the chamber could very well rest on who wins. As the election nears, Dr. Oz continues to close the gap in the state, with Fetterman's early-season lead down to about 2.5 points. It truly is a toss-up. Tuesday's debate performance, therefore, could have been a deciding factor for a lot of people.
Copyright 2022, RepublicanReport.org