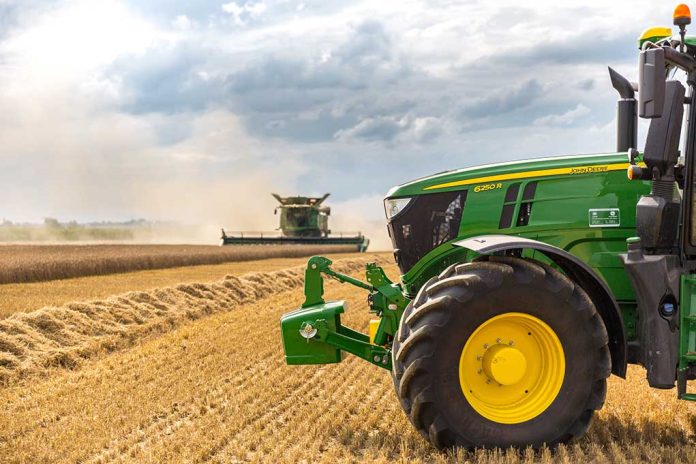 (RepublicanReport.org) – America's labor market has gone through unprecedented difficulties since the onset of the COVID-19 pandemic. First, unemployment went through the roof as movement restrictions and other mandates prevented many businesses from opening. This year, problems of a different nature are cropping up. Businesses are struggling to find people to fill vacant posts, and workers in some industries are quitting at record rates. Analysts have speculated that people understand more about the options now available in the employment market and are unwilling to put up with subpar working conditions.
This week, agricultural manufacturer Deere & Co. is in the midst of its most extensive strike in decades.
10,000 Workers Walk Off the Job
On Thursday, October 14, over 10,000 employees of the agricultural giant went on strike in a dispute with executives over working conditions. The workers are members of the United Auto Workers (UAW) union. Representatives of the union announced the strike after failing to negotiate an agreeable contract with Deere & Co. A spokesman for the company said that it remains committed to reaching a deal but did not say when the strike was likely to end.
The striking workers are based out of 14 different John Deere locations across the United States.
Other Strikes
Deere & Co. is not the first major US firm to encounter this kind of problem in the latter half of this year. Strike action has become so common in recent weeks that this month has been jokingly dubbed "Striketober." Over 1,400 Kellogg's workers went on strike earlier this month after over a year of bargaining ended without an agreement.
There are more major potential strikes coming down the road. A whopping 60,000 members of the International Alliance of Theatrical Stage Employees have voted to authorize a strike over several different aspects of their working conditions. Healthcare workers with Kaiser Permanente in Oregon and California may also walk off the job this year, following a recent vote to authorize such a move.
What's Going On?
There are undoubtedly many factors in the discussion around the general trend of dissatisfaction workers feel in their jobs. Experts believe that the wealth of new opportunities that come about with the pandemic have made workers less inclined to put up with low-paid, inflexible or dull jobs.
This worker dissatisfaction means major employers may have to reimagine their relationships with their employees over the coming years if they want to stay in operation.
Copyright 2021, RepublicanReport.org