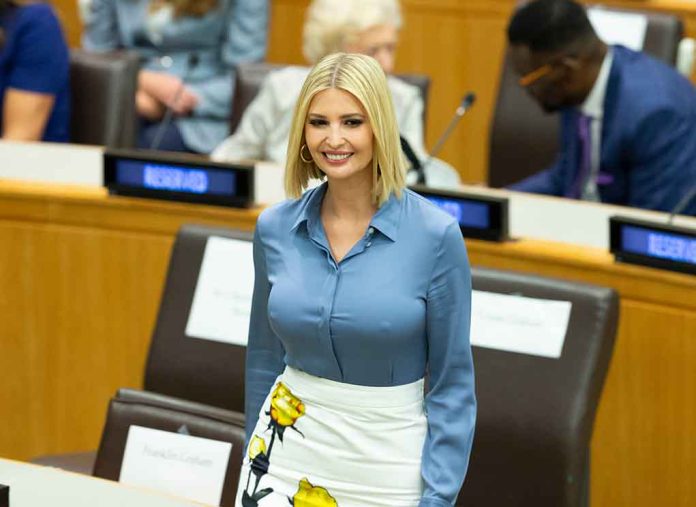 (RepublicanReport.org) – As the war between Russia and Ukraine continues, it's starting to create major humanitarian problems. Displaced Ukrainians are pouring into neighboring countries by the millions, leaving European nations to contend with a growing refugee crisis. One leading conservative figure in the United States has just done her bit to help.
Reports have emerged that Ivanka Trump, daughter of former President Donald Trump, has arranged to deliver one million meals to people in Ukraine and to those who have entered Poland seeking refuge. Her personal financial contribution to the effort was in the hundreds of thousands of dollars.
Ivanka Trump sends 1M meals to Ukrainian refugees https://t.co/lzt3DV2DBV #FoxNews #CNN #MSNBC

— Daniel St.Pierre 📖 🕊 🛩 👨‍🌾 🏖 🎣 🇨🇦 (@cybergenica) March 23, 2022
Trump reportedly worked with a number of nonprofits on the initiative. The meals will be oatmeal and goulash, as these are nonperishable and in line with the preferred food choices of humanitarian workers on the ground in Ukraine. The food will be sent to Poland's capital city of Warsaw, at which point aid workers and volunteers from various organizations will deliver it to those in need, both in Poland and across the border in Ukraine.
Part of the reason for Ivanka Trump's fierce interest in this project, according to sources in contact with Fox News, is her 96-year-old grandmother, who taught her grandchildren to cherish freedom. Also, her mother Ivana Trump reportedly grew up in Soviet-occupied Czechoslovakia.
Copyright 2022, RepublicanReport.org