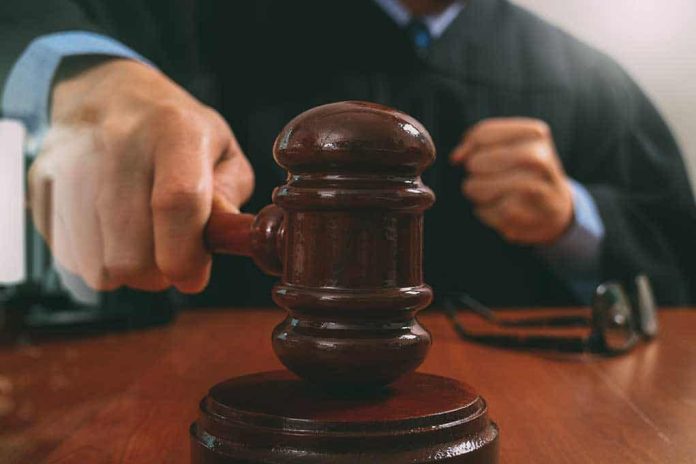 (RepublicanReport.org) – Special Counsel John Durham's investigation into the probe of former President Donald Trump's alleged collusion with Russia in the lead-up to the 2016 presidential election is heating up. In a recent development, Durham announced that a federal grand jury had indicted Michael Sussmann, an attorney who worked on Hillary Clinton's presidential campaign in 2016.
The Indictment
Sussmann is a cybersecurity lawyer who supported the narrative that Donald Trump colluded with Russian operatives to improve his chances in the 2016 election. The FBI probe into that allegation could find no evidence to support it, despite years of investigation.
The Department of Justice indicted Sussmann earlier this month on the back of suspicions he made false allegations to the FBI. He claimed operatives connected to Donald Trump had been communicating with a Russian bank in the lead-up to the election. The case against Sussmann contends he indicated to the FBI he was not acting on behalf of a client by doing this, when in fact, he was representing Hillary Clinton's campaign and another individual.
Controversy Surrounding the Judge in the Case
It has now emerged there is a potential conflict of interest with the judge tapped to preside over Sussmann's case. US District Judge Christopher Cooper is married to Amy Jeffress, a lawyer who at one time represented an FBI attorney called Lisa Page. Page was involved in the Russia probe that Sussmann allegedly furthered by unlawful means. Cooper did not offer this information himself, and some commentators feel he should recuse himself, given a potential conflict of interest arising from the relationship.
Jeffress previously worked as an aide to Attorney General Eric Holder. Also, current Attorney General Merrick Garland presided over the wedding of Jeffress and Cooper in 1999.
Cooper has also acknowledged a distant relationship he had with Michael Sussmann in the 1990s. The two men worked in the Justice Department at the time, and both served in the deputy attorney general's office. The judge said he did not work closely with Sussmann or engage socially with the lawyer, but he acknowledged they were "professional acquaintances." He stated he did not believe this relationship was sufficient to cause a conflict of interest. Cooper offered to recuse himself from the case on this basis if the counsel for either party in the case requested it.
When news of Michael Sussmann's indictment first broke, many commentators thought it would be the first step toward criminal accountability on the part of Hillary Clinton and those around her. That may well be the case. However, it's important to remember just how many connections the Clinton family has in Washington, DC.
Copyright 2021, RepublicanReport.org