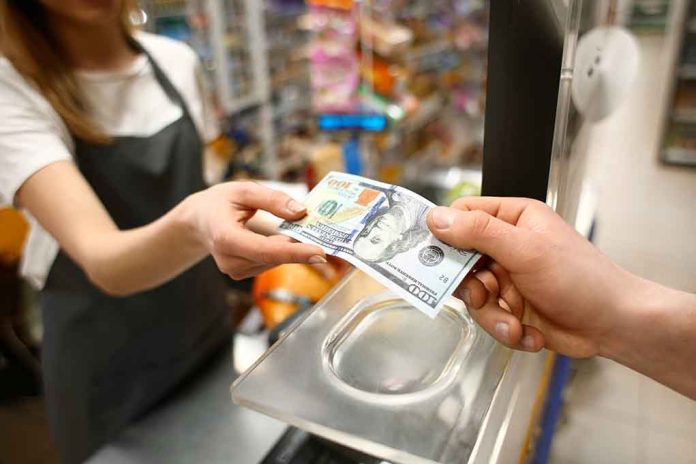 US Hits 40-Year RECORD – But It's Not the Good Kind
(RepublicanReport.org) – The average American is currently wrestling with historic levels of inflation. Prices are skyrocketing across the board, with gas being the hardest-hit commodity. Unfortunately, the available evidence appears to suggest things are only getting worse.
Inflation Hits Another Historic High
On Wednesday, July 13, the Department of Labor revealed that the Consumer Price Index (CPI) rose to 9.1% last month, marking the biggest jump in the inflation rate since November 1981. Gas, food, and accommodation were the biggest drivers.
There was some better news in that the inflation of core prices, a measure that excludes the cost of energy and food, recorded only a 5.9% increase. This is slightly less than the 6% in May.
The problematic price increases are prompting speculation that the Fed may raise interest rates by a full percentage point later in July. Previously, the expectation was of a 0.75% rise.
Raising interest rates should have a deflationary effect and are designed to slow down spending, but higher rates will hit some areas harder than others. Buyers will pay more for loans and rents will reflect the new rates. Both are significant contributors to the CPI. Businesses that rely on borrowed money will also suffer. Eventually as demand starts to lower, prices should also begin to drop. In the meantime, families will continue to struggle with high costs for accommodations and consumables like food and other necessities. Intervention by the feds may be a day late and a dollar short in its efforts to change the direction of the economy. As Americans reduce their spending, the big concern then becomes recession where the economy starts to decline leading to a whole new set of problems.
What Politicians Are Saying About Inflation
Senator Joe Manchin (D-WV) was among those to react to the most recent data on price increases. The firebrand centrist warned about the danger inflation is now posing to the American economy, leading people to question whether he will support Senate Majority Leader Chuck Schumer's (D-NY) budget reconciliation package. Manchin has repeatedly expressed concerns about the economic impact of major government spending, criticizing his party colleagues for their spendthrift ambitions. In a statement on Wednesday, Manchin said the evidence of inflation in retail outlets across the nation was undeniable.
President Joe Biden was keen to put a more positive spin on the situation. In a White House statement, he said it was "out-of-date" because of recent decreases in energy prices, particularly for gas. Biden stressed that core inflation was dropping and prices for wheat were down. He then acknowledged the difficulties inflation was causing and pledged to implement strategies to address the issue, including encouraging the production of American oil and gas and working with Congress to lower everyday expenses via legislation.
Do you have faith in Biden and his administration to be able to deliver the change he's promising?
Copyright 2022, RepublicanReport.org