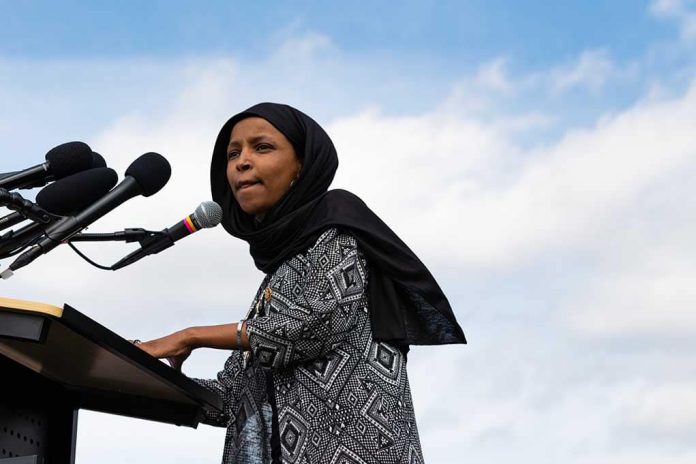 (RepublicanReport.org) – Liberals in Congress have long attracted criticism for the perception that they harbor bias against Israel and the Jewish community in the US. The worst offenders have been members of the Squad. Rep. Ilhan Omar (D-MN) has repeatedly been accused of anti-Semitism. For example, she had to apologize for implying American Jews were paying for political clout in February 2019. Unfortunately, it appears the liberal firebrand from Minnesota has not learned her lesson.
On Tuesday, September 21, Rep. Omar attempted to stop Congress from issuing $1 billion to Israel in funding its missile defense project. The Iron Dome is a sophisticated defense system that protects Israel from rocket attacks, primarily by neighboring Palestine. Palestine aimed over 4,300 rockets at Israel during a conflict in May of this year. Omar claimed the US should not give arms to nations that "[violate] human rights."
We sold $175 billion in weapons last year—more than anyone in the world—to some of the worst human right abusers in the world.

Here's an idea: don't sell arms to anyone who violates human rights.

— Ilhan Omar (@IlhanMN) September 22, 2021
Unfortunately for Omar, her pleas largely fell on deaf ears, even among her party colleagues. On Thursday, the Democrat-controlled House of Representatives voted overwhelmingly (420-9) to approve the $1-billion Iron Dome grant. Fellow Squad member Rep. Alexandria Ocasio-Cortez (D-NY) did not vote against the measure, choosing instead to vote "present." Despite this, AOC was seen crying after the measure passed, drawing widespread scorn from political commentators, who noted she may have been reluctant to oppose the measure because it would hurt her politically in the future.
Copyright 2021, RepublicanReport.org