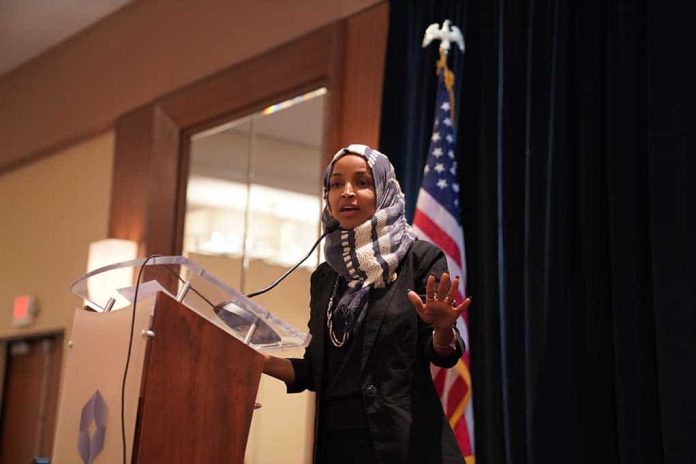 (RepublicanReport.org) – The presidential election of 2020 was marred by controversy around voting system integrity. It was a difficult time for the country, raising issues that still have yet to reach a full resolution. On a positive note, it has led to long-overdue debates and discussions supporting our electoral framework and how our candidates are elected. Of course, there has been much cross-party bickering around the specifics.
The latest episode of this occurred on Thursday, June 24, as Rep. Ilhan Omar (D-MN) posted the tweet below attacking Rep. Dan Crenshaw (R-TX) for supporting stricter voting laws in Texas. Crenshaw is also a notable opponent of the 'For the People Act,' the Democrats' sweeping election reform legislation coming under heavy fire from Conservatives.
Not sure I would be so indignant if my district looked like this. https://t.co/qPnoH0aljd pic.twitter.com/aBwj7gEe9V

— Ilhan Omar (@IlhanMN) June 24, 2021
Unfortunately for Omar, her criticism was poorly fact-checked. Fox News has since reported that her district is actually less multiracial than Crenshaw's.
This isn't the first time Rep. Omar has accused her political opponents of racial discrimination to score points. In 2019, she accused then-President Trump of "inherent racism," saying it had "always been part of him." However, as Crenshaw pointed out on "Fox & Friends," Omar herself has a history of making antisemitic remarks.
Ilhan Omar has made a name for herself as an outrage merchant, someone who relies on shock value when making public statements. Yet, the radical Congresswoman is often embarrassed
when facts debunk her inflammatory remarks.
Copyright 2021, RepublicanReport.org