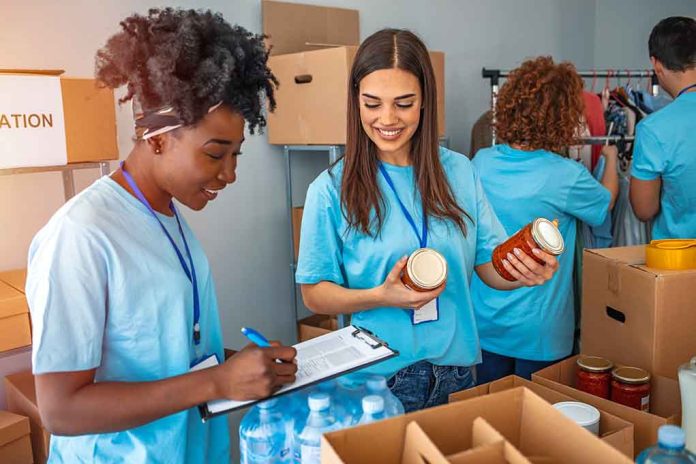 What Is TEFAP And How Can It Benefit You? Find Out Now
(RepublicanReport.org) – Especially in the wake of COVID, as prices have continued to rise, eating healthy on a tight budget can seem impossible. Fresh fruits, vegetables, quality meats, and other protein foods can be expensive and hard to find in many low-income areas. The federal government aims to fill that gap with the Emergency Food Assistance Program, known as TEFAP, which provides fresh, healthy food for free to low-income populations.
How TEFAP Works
The US Department of Agriculture buys food for TEFAP from American producers. It distributes food to the states based on their unemployment rates and the number of people living below the poverty line for the state. The states then, in turn, donate food to local organizations that support low-income food programs, such as restaurants or community kitchens that offer free meals. The government also funds vehicle purchases, storage, operating expenses, advertising, and other food-related costs.
Congress authorizes an annual fund to support the purchase of TEFAP items and another program designed to help manufacturers purchase additional products. TEFAP funding was awarded to state and local agencies when those purchases were made. In addition to food grants, TEFAP governments provide food to other local organizations that provide food to low-income families, such as monthly food assistance programs, backpack programs, etc. Food banks usually distribute TEFAP as food boxes to families each month.
What Ingredients are in TEFAP Packages?
The USDA distributes different types of food through TEFAP, depending on the nature and availability of the food at the time of year. TEFAP packages include non-perishable foods, such as canned, frozen, or dried apples and vegetables, nuts, and whole grains, and fortified grain products, including rice, cereal, and pasta. But the beauty of the TEFAP program is that you can also buy perishable goods, such as fresh apples and vegetables, meat, chicken, eggs, fish, and dairy products such as milk and cheese; many items can be challenging to find, especially in low-income areas.  These items are given to families or located in nearby markets.
TEFAP includes more than 120 affordable, high-quality products that help improve the nutrition of low-income Americans. TEFAP also provides recipes for participants to prepare meals included in the kits.
Who Can Receive TEFAP packages?
Since this is a federal government program, they must prove that they qualify as a family to be eligible for food subsidies. The state determines the eligibility requirements, which vary by state, income, and home composition. Those interested in applying can find information from the USDA about their eligibility. Generally, families who participate in other food assistance programs, such as SNAP or free or reduced-price school lunches, may be eligible for TEFAP assistance.
Programs that provide prepared meals to residents must demonstrate that they serve a predominantly low-income families to receive TEFAP funds. Food program participants do not need proof of income to obtain food.
Other Food Assistance Programs
Other programs administered by the USDA's Food and Nutrition Service branch that target low-income residents include:
National School Lunch Program (NSLP): provides free or reduced-price lunches and breakfasts to students facing food insecurity
Supplemental Nutrition Assistance Program (SNAP): provides a monthly stipend on an EBT card that can be used to purchase food from participating retailers.
Special Supplemental Nutrition Program for Women, Infants, and Children (WIC): This program assists expecting mothers, newborns, and children.
Commodity Supplemental Food Program (CSFP): provides supplemental food to low-income residents who are age 60 and older.
Food Distribution Program on Indian Reservations (FCPIR): This program assists Native Americans facing food insecurity and financial issues
There is no shame in needing help. Reach out to your local or federal support offices to learn more about eligibility requirements and programs in your state.
Copyright 2022, RepublicanReport.org