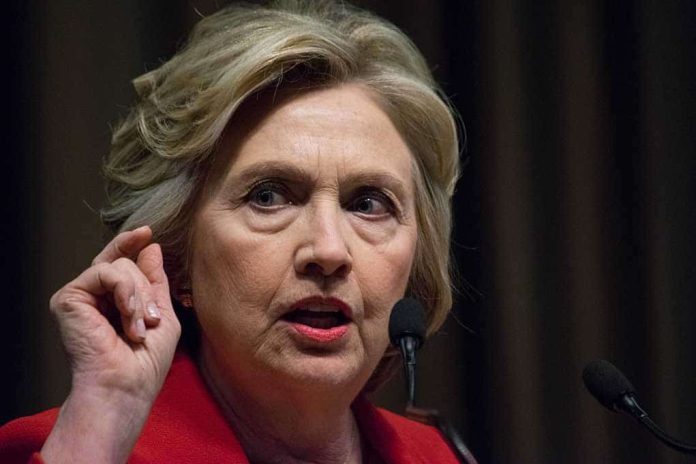 (RepublicanReport.org) – While Hillary Clinton no longer occupies any political office, she remains closely involved in world politics in various ways. The notoriously hawkish former secretary of state has been keeping an eye on what's happening in Afghanistan. She's even engaging with foreign leaders for discussions on the topic.
On Tuesday, August 17, Canadian Prime Minister Justin Trudeau confirmed he'd spoken with Clinton the previous day regarding Afghanistan. Clinton reportedly shared concerns around the risks to women and girls under the new Taliban regime. The group subjected females to severe oppression the last time it was in power.
Numerous analysts have pointed out the irony of this conversation; given the fact, President Joe Biden had yet to speak to any other world leaders about the conflict at the time.
Yesterday, the White House said that Joe Biden has not taken any calls with world leaders in regards to Afghanistan.

Justin Trudeau stated that he spoke with Hillary Clinton yesterday about Afghanistan.

What is going on? Why is the US President not taking calls but Hillary is? pic.twitter.com/nFn4t97M2K

— ⭐️Amy Tarkanian⭐️ (@MrsT106) August 18, 2021
It's since emerged that Biden discussed Afghanistan with British Prime Minister Boris Johnson late on Tuesday. The conversation took place more than 48 hours after the Taliban overran Kabul. The pair reportedly agreed to arrange a virtual G7 summit next week concerning the crisis.
However, many feel this reflects a lack of urgency on Biden's part in relation to the growing crisis. The president was on vacation in Camp David in the lead-up to the fall of Kabul, even though circumstances in Afghanistan were rapidly getting worse.
Copyright 2021, RepublicanReport.org