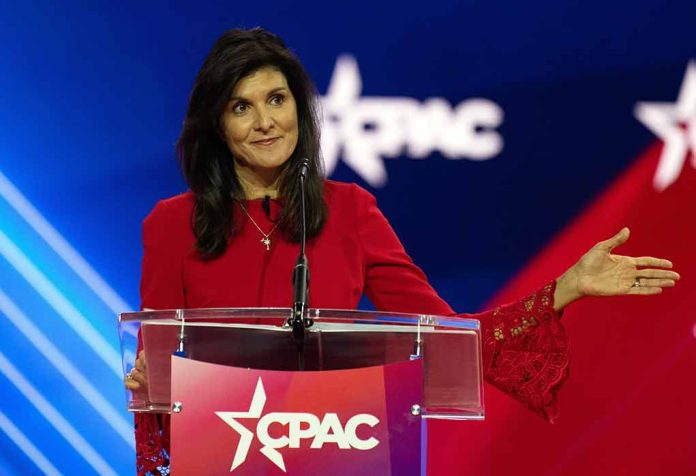 (RepublicanReport.org) – Alabama Sen. Tommy Tuberville (R) has been on a one-man crusade since February. He began to refuse voting on military promotions in protest against the Pentagon's recent policy supporting abortions for service members in states where the procedure is now illegal. Republican presidential candidate Nikki Haley doesn't approve. Even more, she's questioning any conservative who thinks the potentially crippling move is okay.
The Controversy
Tuberville put a full halt on the military promotions process, stating he won't allow it to move forward again until Democrats agree to vote on the Pentagon's current abortion policy. The Left says it's not going to budge because doing so could set a precedent for future votes and prompt other lawmakers to hold up systems for other personal demands. The Senate is responsible for approving all military promotions and nominations, and Tuberville's demonstration has already stalled the upward movement of hundreds of senior officers. The senate must approve promotions by unanimous consent for them to move forward, although this is typically a formality.
The issue first surfaced when Defense Secretary Lloyd Austin determined that changes to abortion laws created unequal access for women serving in the military. Dobbs v. Jackson Women's Health Organization returned the decision over whether to allow the procedure to the individual states in 2022, effectively tossing out Roe v. Wade.
Austin stated that many recruits are forced to move often in the course of their duties, placing some women temporarily in states where abortions are restricted or illegal. He claims the policy barring these women from access creates a hardship on the armed forces because it interferes with their ability to recruit troops and keep them combat-ready. In response, he made allowances for military women to travel to abortion-friendly states for the sole purpose of terminating pregnancies. The move doesn't fund the abortions themselves, but it does enable them.
Tuberville sees the move as unacceptable, and he's willing to stall the careers of hundreds to make his point.
Opposing Views
Haley says Tuberville is taking the wrong approach. The conservative presidential hopeful understands where the Alabama senator is coming from, but she doesn't agree with using service members as political pawns. To solve the issue, she proposes Congress vote on each promotion individually — a tedious process that would eventually prompt members to take more aggressive action.
Ultimately, Haley wants members of Congress to do their jobs. A bit of hardship, she contends, might give them a taste of "what they're doing to these military families." Some Republicans, such as Sen. Mitch McConnell (R-KY) and former New Jersey Governor Chris Christie (R), agree with Haley. Republicans supporting Tuberville include three additional presidential primary candidates: Florida Gov. Ron DeSantis, business executive Vivek Ramaswamy, and former Vice President Mike Pence.
Copyright 2023, RepublicanReport.org