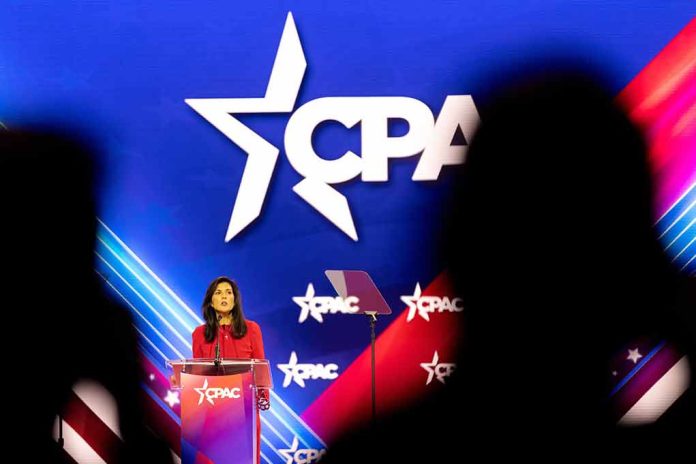 (RepublicanReport.org) – Former UN ambassador and South Carolina Governor Nikki Haley (R) has made new headlines for her statements against older politicians like President Joe Biden. The presidential hopeful first suggested age-related competency tests for the country's commander-in-chief in February, when she announced she would be running for the Republican ticket. She recently defended her stance, noting that congressional term limits were also necessary to keep politicians from serving past their prime or becoming too powerful.
Retiring the "Permanent Politician"
Haley joined CBS host Robert Costa on "Face the Nation" on Sunday, September 3, to discuss her stance. Costa made note of recent health issues with Kentucky Senator Mitch McConnell (R), who froze in a daze in front of the media on at least two separate occasions after recovering from a fall-related concussion. He then quoted Haley's recent statement calling the Upper Chamber "the most privileged nursing home in the country."
Haley confirmed she was pushing for term limits and competency tests for all politicians over 75 years old pursuing positions of power. She pointed to McConnell, along with Senator Dianne Feinstein (D-CA) and Representative Nancy Pelosi (D-CA), applauding their long careers but insisting their time in Congress was well past over. She said the next generation wanted to work toward a better future for their children, but forward movement was impossible while older members of the House and Senate clung to their positions.
Haley made clear that she wasn't targeting Democrats alone, and her issue was with politicians who were hesitant to age out and those who might get "drunk on power" and refuse to let go of their seats after multiple terms.
Fears of Another Biden Term
Haley's concerns over Biden, specifically seeking another four years in office, go beyond fears that he might be unfit for the job. The president has had more than his share of stumbles and gaffes over the past couple of years, with even The New York Times expressing the people's apprehensions over some of his most notable missteps. The US leader would be 86 years old when his second term ended.
Also, a lot can change in four years. Haley asserted in April that Biden wasn't even likely to survive to 86. She posted on Twitter, recently rebranded as X, that voting in the 82-year-old leader only ensured that Vice President Kamala Harris would have a chance to take office. Biden has already exceeded the average life expectancy for a US male by several years, so that argument might be Haley's largest selling point.
Copyright 2023, RepublicanReport.org