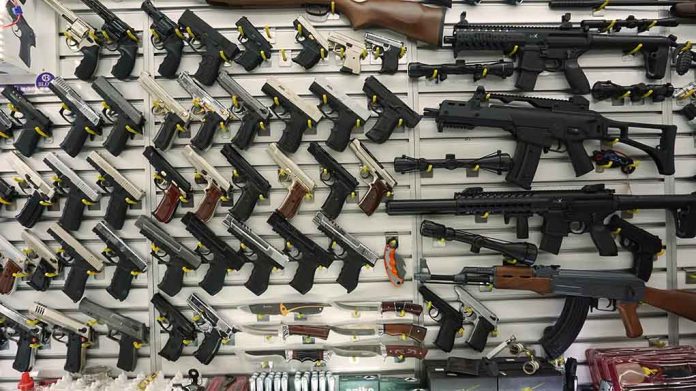 (RepublicanReport.org) – With violent crime reportedly on the rise in cities across the United States, citizens are looking for ways to ensure their own safety. One popular means of doing so has always been to own a firearm, and it appears Americans are more likely than ever to use their Second Amendment rights to stay safe at this time. New statistics have shown gun sales are still at record highs.
According to statistics from the Federal Bureau of Investigation (FBI), gun sales have been at record peaks over the last three years. In fact, 2022 was the third-biggest year for applications in the National Instant Criminal Background Check System (NICS) — there were 31.5 million — with only 2020 (39.7 million) and 2021 (38.87 million) coming in ahead.
Industry insiders have revealed there have been over 16 million sales of firearms in each of these years, an elevated number they are now referring to as the "new normal." In fact, 42% of American homes contain one or more guns, according to Screen and Reveal.
GUN SALES: As buyers concerned about violent crime arm themselves, gun sales have hit a "new normal" of more than 16 million annual sales.

The past three years have seen new highs in gun sales and background checks, according to the FBI. https://t.co/CHlGmzd40G

— NEWSMAX (@NEWSMAX) January 5, 2023
Analysts with the National Shooting Sports Foundation (NSSF) have said this trend mirrors what has been seen in previous years. People tend to buy weapons in greater numbers when there is a threat of political or societal unrest, and there is currently a lot of focus on the issues around violent crime in the United States. This is especially true in Democratic-led cities. The NSSF has also stated the current high levels of gun sales are likely to persist into the future.
Reports have revealed the number of Americans applying for concealed carry permits is also at a record high. Applications for these permits generally come before firearm purchases, according to experts.
Do you think it's a positive or a negative development that so many Americans are seeking to arm themselves at this time?
Copyright 2023, RepublicanReport.org