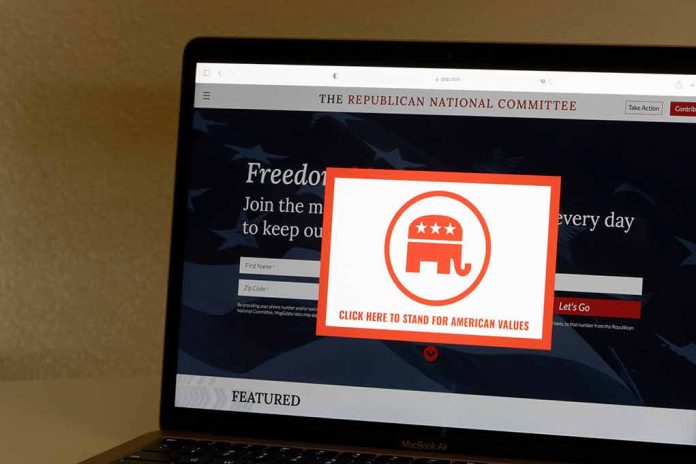 (RepublicanReport.org) – Oklahoma Governor Kevin Stitt (R) recently joined Newsmax's "Wake Up America" to discuss his thoughts on the Republican presidential primary race. The conservative leader recently endorsed Florida Gov. Ron DeSantis for the GOP primary, but he hasn't closed the doors on former President Donald Trump quite yet. He believes the results of the January 15 Iowa caucus could put Republicans in "a two- or three-horse race."
Newsmax notes that Stitt is the first state governor to publicly endorse DeSantis instead of Trump. The Oklahoma conservative pointed to his Florida peer's track record as a leader through the pandemic as one reason for his support, but he also felt the younger contender had a real chance at beating President Joe Biden on the final ballot. Stitt stressed the importance of having a candidate the American people could count on for the next two terms.
Stitt added that he would stand behind whoever won the Republican nomination. He expressed faith in the democratic process, stating that the expression of differences between candidates with the voters ultimately deciding whose ideas would lead, was "healthy" for the country.
Like Trump and DeSantis, Stitt belongs to the camp of politicians who want to make the US energy independent. He pointed to the numerous resources his state of Oklahoma has implemented, noting its success in not only oil-based energy production, but power from natural gas and wind turbines. He blames Democrats and their green energy policies for the country's inflation problem.
Trump responded to the news on Truth Social, stating his endorsement had been the winning factor in the governor's long-shot win and expressing surprise that Stitt had decided to endorse his rival. KFOR 4 News reports that Rep. J. J. Humphrey (R-OK), who believes the MAGA leader is the only reasonable GOP candidate, recently accused Stitt of setting himself up as a potential vice-presidential candidate if DeSantis happens to win the nomination.
Copyright 2023, RepublicanReport.org