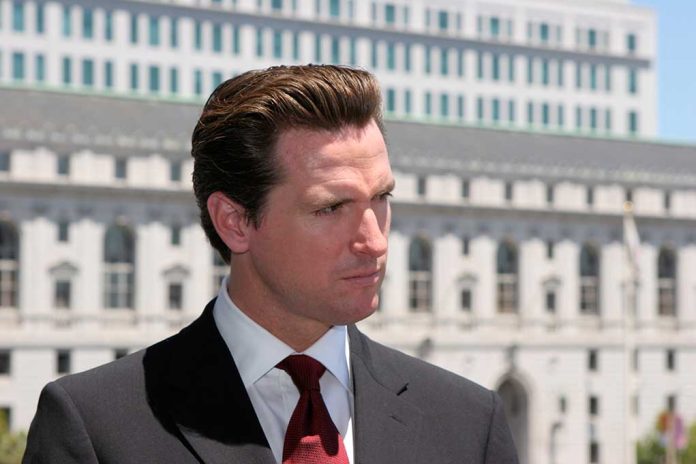 Gavin Newsom Issues WARNING – Water Could Be Limited For Citizens!
(RepublicanReport.org) – The state of California is accustomed to dry weather and related water-supply issues. Maintaining adequate supplies of the scarce resource for California's 39 million residents is a major priority for the state government. To that end, Democratic Governor Gavin Newsom recently presented his voters with a stark reality.
Reuters reported on Monday, May 23, Newsom said he was considering implementing harsher limitations on water usage during a meeting with water agency heads. The governor stated California residents had previously made productive efforts to restrict their water consumption in light of dry conditions. However, usage levels were rising again, he said, and this was a cause for concern going into what could be a dry summer.
California Governor Gavin Newsom warned he would order strict cutbacks on water usage statewide if businesses and residents did not slash their own consumption in the face of a severe drought https://t.co/46rUVD1wSN

— Reuters (@Reuters) May 24, 2022
Newsom implored water agencies to do more to keep usage levels low in their areas. He said the groups should be encouraging Californians to do laundry less frequently, water their lawns less, and spend less time in the shower.
Just two days after Newsom issued his warning, news outlets reported that water regulators implemented a few new rules for businesses and water suppliers. Suppliers must now start preparing for water shortages of up to 20%, while commercial and industrial properties have been ordered not to use drinking water for decorative grass.
Newsom is a first-term governor seeking re-election in November. He suffered a large degree of political damage earlier this year when an attempt to force a recall election against him over his harsh COVID-19 containment measures succeeded.
The governor survived the recall attempt, but will he survive November's election? Only time will tell.
Copyright 2022, RepublicanReport.org