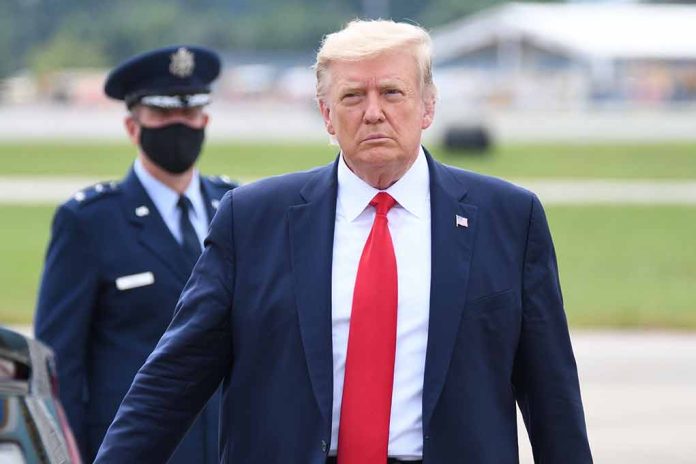 (RepublicanReport.org) – Iowa Governor Kim Reynolds (R) recently sat down with Fox News' Shannon Bream to discuss the primaries and former President Donald Trump's decision to miss campaigning events in her state. She insisted residents aren't giving the former president a free pass, despite his nearly 27-point lead there, adding that voters want to see and interact with all of their potential choices. The interview, which took place at the Iowa State Fair, aired on "Fox News Sunday."
The relationship between Reynolds and Trump has been somewhat uncertain since he criticized her on social media in July. The Iowa governor stated she wouldn't endorse any candidates ahead of the midterms, which apparently triggered the MAGA leader's fury. He took to Truth Social, taking credit for her tight win in 2018 and slamming her for taking a "neutral" stance on the primaries. The Iowa governor rejected Trump's claim that his endorsement led to her victory, insisting instead that she'd fought a tough campaign and the Iowa people had spoken. Reynolds was quick to add that she hasn't ruled out offering her own endorsement later in the race.
Florida Gov. Ron DeSantis (R) jumped to Reynolds' defense, reiterating on X, the platform formerly known as Twitter, his statement that Trump's attack was "totally out of bounds." He complimented the work his fellow governor had done in Iowa, which had been a swing state just a decade ago but had grown solidly red under her leadership.
Iowa, set to hold the nation's Republican first caucuses — which are just months away — is a vital battleground state for GOP candidates. A win there will likely set the stage for the rest of the country's primary votes. Reynolds had invited all right-wing competitors to join her in several "Fair-Side Chats," which she scheduled for August 10 through August 18. Attendees included DeSantis, former Vice President Mike Pence, entrepreneur Vivek Ramaswamy, and former South Carolina Gov. Nikki Haley.
Trump was notably absent from the lineup. Apparently, he feels his lead is strong enough that he shouldn't need to face any of his opponents any further in person.
Copyright 2023, RepublicanReport.org