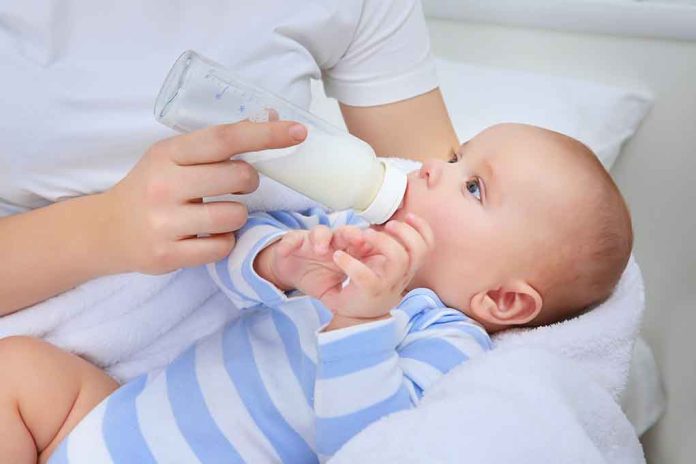 FDA Called To ACTION – Children At Risk?!
(RepublicanReport.org) – One of the most pressing issues currently facing President Joe Biden and his administration is the supply chain crisis. Over the last year, the availability of some basic necessities has dwindled, and prices have skyrocketed. One of the commodities affected by this trend is baby formula.
On Tuesday, May 10, Reps. Elise Stefanik (R-NY) and Ashley Hinson (R-IA) sent a letter to Food and Drug Administration (FDA) Commissioner Robert M. Califf demanding answers about the baby formula shortage. The letter notes concerned parents have contacted the lawmakers (both of whom are mothers themselves) to express their frustration and stress over the issue.
The letter highlights that low-income and rural families are the ones suffering the most because of this shortage. It also notes the crisis is coming alongside skyrocketing costs for other essential goods.
Families are already worried about the cost of groceries & now parents have the added stress of not knowing if baby formula will even be in stock. @RepStefanik & I are calling on the Admin to fix supply chain issues & address the baby formula shortage. https://t.co/CpPYXBW9y8

— Ashley Hinson (@RepAshleyHinson) May 10, 2022
The letter concludes with a series of questions for the FDA regarding the situation. Specifically, Stefanik and Hinson asked what the FDA is doing to bolster baby formula supplies in the immediate term, how it plans to prevent crises like this in the future, and what steps it is taking to ensure the Americans most in need will receive help first.
On Thursday, May 12, Stefanik joined with a group of other lawmakers outside the Capitol to speak out about the issue. She slammed the Biden administration for not doing more to address it asserted that this "should never happen" in the US. Other lawmakers such as Rep. Ann Wagner, (R-Mo) and Rep. Patrick McHenry, (R-NC) also discussed the seriousness of the crisis and called for action.
According to the White House and the FDA, both entities are working on ensuring more baby formula is available. Biden also reportedly spoke with baby formula sellers and manufacturers on Thursday.
Copyright 2022, RepublicanReport.org