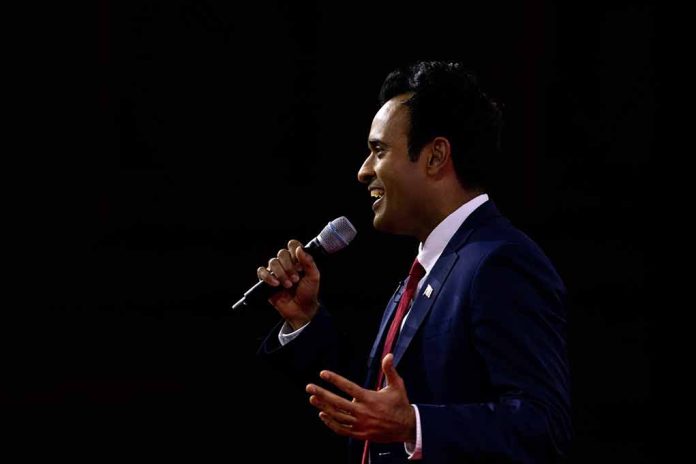 (RepublicanReport.org) – As a variety of Conservatives attempt to take on former President Donald Trump in the race to secure the Republican nominee for president, each one must set themselves apart in some way to show why they are a better choice than someone who already spent four years in the White House. One trying to make a name for himself is Vivek Ramaswamy, an American entrepreneur turned politician. He has recently shared his desire to shut down the FBI in various interviews and outlined his reasoning for it on Twitter.
On Monday, May 15, Special Counsel John Durham finally released his final report detailing the happenings within the FBI when it investigated Donald Trump's alleged ties to Russia during his 2016 presidential campaign. Not long after the report's release, Ramaswamy tweeted the following:
Durham report: "we conclude that the Department and the FBI failed to uphold their important mission of strict fidelity to the law." Enough is enough. Root out the corruption & shut down the FBI. This is achievable. At the local level, we have police & prosecutors. At the federal…

— Vivek Ramaswamy (@VivekGRamaswamy) May 15, 2023
Durham's investigation only led to one successful prosecution. Kevin Clinesmith, a former lawyer for the FBI, pleaded guilty to modifying the text of an email to get a surveillance application approved. However, the report's overarching theme highlighted the failure of the FBI to hold fast to US law, which Ramaswamy pointed out in his tweet. The Ohio conservative hopes that shutting down the FBI, something he believes is "achievable," is one of the first steps to reversing political corruption that has gripped the US government for decades.
While many people praised Ramaswamy's agenda and rallied behind this extreme public opinion, others questioned if shutting the doors of such a massive government agency is even possible. The FBI currently employs more than 37,000 people across the US. Yet, Ramaswamy believes the job of enforcing federal law can be done by US Marshals and the Department of Justice, while police and prosecutors can take care of it locally. Do you think stances like these are too extreme in terms of securing voters?
Copyright 2023, RepublicanReport.org