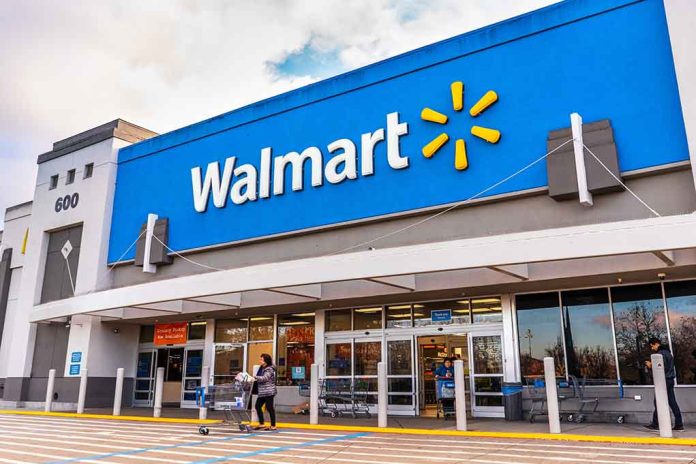 (RepublicanReport.org) – Interactions with cashiers are often limited, as shoppers so often are rushing through their day to get to the next thing on their list. But, business owner Rory McCarty had loftier goals than just a quick shopping trip one day when heading into his local Walmart in Cumberland, Maryland. What he did next changed a Navy veteran's life forever.
On December 16, 2022, McCarty, known as BugBoys on TikTok, filmed a video of his cashier, Butch Marion, while the Walmart employee scanned the batteries he was buying. During the exchange, McCarty explained how another TikTok user raised over $100,000 for a Walmart employee to retire. He asked Butch to imagine what it would be like if someone did that for him.
Before long, that's exactly what happened. When his video went viral, McCarty started a GoFundMe page for the 82-year-old father, grandfather, and veteran and raised $108,000 in just a few days.
Walmart Cashier Butch Marion was finally able to retire because of the kindness of strangers. https://t.co/kn7Gidx6qY

— FORTUNE (@FortuneMagazine) January 9, 2023
On Wednesday, January 4, Marion worked his final shift at Walmart and walked out of the building to receive the six-figure check. He plans to use the cash to pay bills, go fishing, and travel to see his daughters and their children in Florida, whom he hasn't seen in years. This is a major change from his schedule, where he worked around 30 hours a week on his feet.
As of Tuesday, January 10, the GoFundMe page has raised over $140,000, all of which will go to Marion. The friendship between these two men is blooming, as Marion attended church with McCarty and the pair took a road trip to DC for a national interview.
This is just another beautiful example of how powerful social media can be, bringing a now-retiree a windfall of cash that will allow him to enjoy life to the fullest in retirement and to visit his family in his final years.
Copyright 2023, RepublicanReport.org