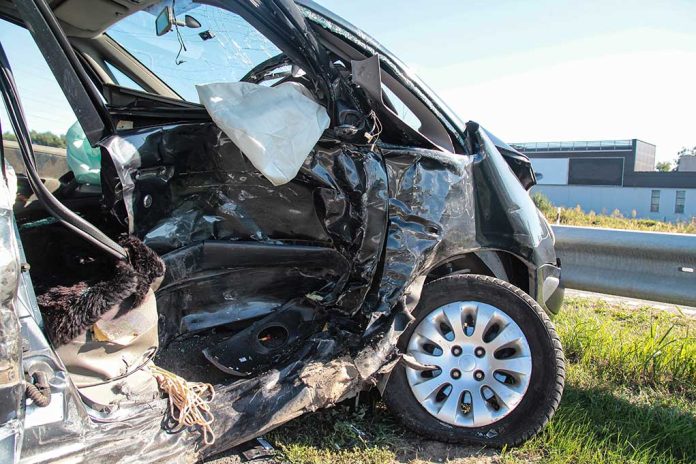 (RepublicanReport.org) – American roads can be dangerous at times. Data from the National Highway Traffic Safety Administration (NHTSA) shows that, across the nation, 9,560 people died in road accidents in the United States during the first quarter of 2022 — the number marks an increase of roughly 7% over the same period last year. Recent years have also seen an uptick in rates of violent crime, and these two issues collided spectacularly in a recent story out of New York City.
On Monday, January 2, a white Audi sedan traveling through Manhattan made contact with a Toyota SUV at high speed. The Toyota was pushed into the front of the Inwood Bar & Grill restaurant, causing a lot of destruction and physically affecting dozens of people. Reports state 19 people were hospitalized following the crash, and 3 others turned down medical assistance. Luckily, no one had life-threatening issues.
To make matters worse, the driver of the Audi decided to flee the scene before police arrived. Officers are now seeking information the public may have about the car or its driver. The vehicle was last seen traveling north on Broadway, according to reports.
The driver of an Audi sedan connected to a crash at a Manhattan restaurant did not remain at the scene and the vehicle was last seen heading northbound on Broadway, according to officials. https://t.co/3U2MUu1rl4

— ABC News (@ABC) January 3, 2023
Incidents like these have not gone unnoticed among the ranks of policymakers in New York City. In November of last year, three members of the Queens council called out their colleagues for their failure to properly address the issue of violent crime in the city. Their calls come amid worrying statistics about criminality in the Big Apple. Law enforcement data from around that time suggested crime rates were 27.5% higher compared to the previous year.
What do you think the authorities in crime-stricken areas like New York City should be doing to protect their residents from this ongoing spike in the levels of violent illegal activity?
Copyright 2023, RepublicanReport.org