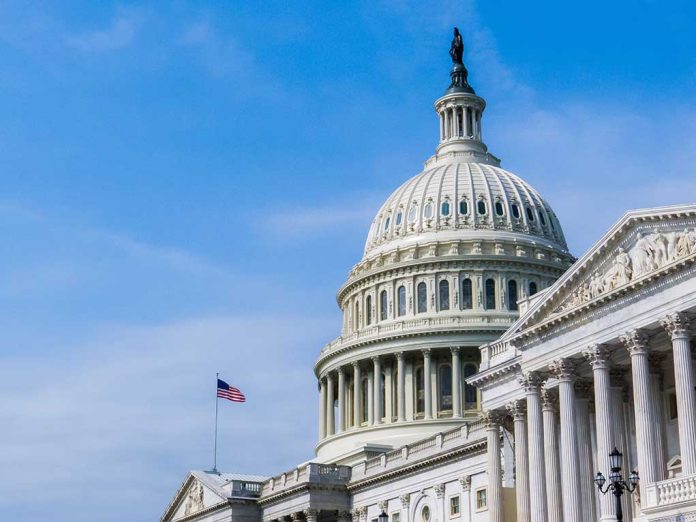 (RepublicanReport.org) – Representative George Santos (R-NY) is facing intense scrutiny following revelations that he falsified parts of his resume and questions about his finances. Despite the ongoing criticism, the New York Republican filed paperwork with the Federal Election Committee (FEC) announcing his candidacy for a re-election bid in 2024.
Rep. George Santos, facing criminal inquiries and ethics investigations, filed a statement of candidacy with the FEC, indicating his intent to run for re-election. The move allows him to continue to raise funds and pay campaign expenses, like legal fees. https://t.co/n0s6JgBQli

— The New York Times (@nytimes) March 14, 2023
Santos is facing several investigations from several entities, including the House Ethics Committee. A number of congressional legislators on both sides of the political spectrum have called on him to resign. Local Republicans in New York have also urged Santos to step down.
The New York Times reported in December that Santos falsified information on his résumé, claiming to have completed college and worked directly for Citigroup and Goldman Sachs. Since then, Santos has been the subject of an increasing number of accusations and inquiries, particularly those pertaining to his money.
The New York Post mentioned that on February 28, the House Ethics Committee voted unanimously to open an inquiry into Santos to see if he had broken conflict of interest rules, failed to disclose pertinent information on House forms, or had sexually harassed a temporary member of his own staff. After being recruited in January, Santos' former assistant told the ethics committee and the US Capitol Police that the congressman touched his crotch and invited him home. Santos' office has said he is "fully cooperating" with the House investigation.
According to The Hill, the FEC sent a letter to Santos last month, asking him if he planned to run for re-election after his campaign reported nearly $28,000 in contributions and almost $43,000 in expenses following the November election. Even with controversy continuing to pile on, Santos has remained steadfast in his statement that he plans to serve out his term in Congress.
The New York Republican's recent "Statement of Candidacy" filing with the FEC indicates he could be gearing up to run for reelection. However, it doesn't guarantee that he will run for office again in 2024. It does allow him to begin fundraising to raise money for his campaign. Given his already controversial tenure, he is facing a tough first term in Congress, which would likely flood over into any reelection campaign he may be mounting in New York's 3rd Congressional District.
Copyright 2023, RepublicanReport.org