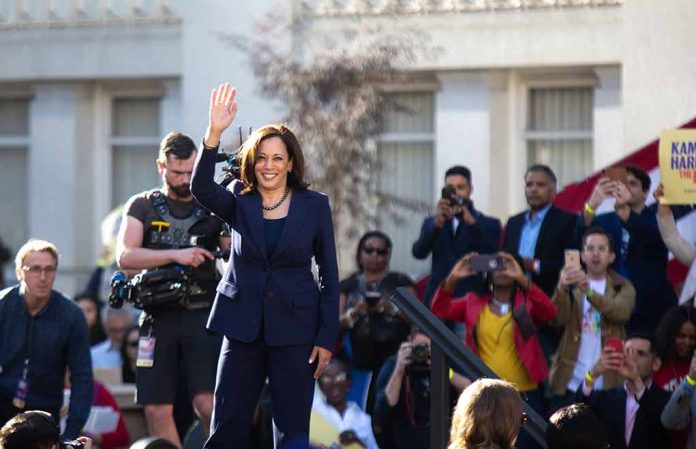 (RepublicanReport.org) – The US presidential primaries grow near, sparking growing speculation over the Democrats' continued devotion to their chosen candidate, Joe Biden. With concerns over the commander-in-chief's age, some people are considering the possibility that he might not run at all, leaving Vice President Kamala Harris firmly at the helm. California Gov. Gavin Newsom (D) recently said in an interview that he'd back her as the party's next pick.
On September 10, Newsom met with NBC News' Chuck Todd on "Meet the Press." The California governor appears to be gearing up for a presidential campaign of his own — but not this time around. He insists the Democratic party has been moving in the right direction under the current administration and is stronger for the past two years of leadership, so he supports another Biden-Harris run.
Todd noted that less than a quarter of the population wants to see Biden back in the White House, but Newsom brushed off the low numbers. The progressive leader insisted that the polls were meaningless to him and that politicians still had time to argue their merits to the voters. He called the past two years a "master class" in political performance, and he was dedicated to helping the commander-in-chief earn another four years in the White House. Adding that filing deadlines to run for president were quickly coming to a close, Newsom said Americans needed to get over the idea that Biden wasn't going to run.
For all his denial, Newsom did back the idea of Harris leading the Democrats in 2024 if, for whatever reason, Biden wasn't able to continue. He reminded Todd that Harris was part of the administration, so naturally, he would support her if she had to step up to the plate.
Worries that Biden might be too old to serve another term have left Democrats and Republicans alike wondering if the current path will lead to an inevitable Harris presidency. The second-in-command personally addressed the concern on the September 10 airing of "Face the Nation," telling the public that she was prepared to serve if need be, although she also insisted, "Joe Biden is going to be fine."
Copyright 2023, RepublicanReport.org