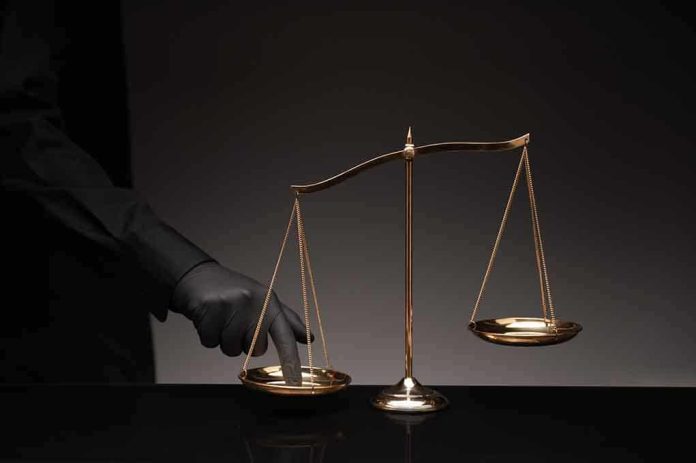 (RepublicanReport.org) – The politicization of key government institutions is nothing new. When President Joe Biden got into the White House, he quickly installed department and agency heads to further his policy objectives. For example, David Chipman, Biden's pick to lead the Bureau of Alcohol, Tobacco, Firearms, and Explosives (ATF), had a long history of favoring gun control measures. A prominent Republican is alleging that the Department of Justice (DOJ) is suffering from this same kind of bias.
On Wednesday, November 17, Rep. Matt Gaetz (R-FL) appeared on Newsmax to criticize the various scandals currently surrounding the DOJ. He claimed Attorney General Merrick Garland tapped Democrat operatives to investigate election crimes, and the Justice Department had become "the most political agency in Washington."
BREAKING: Capitol Complex Fades to Black as Gaetz SLAMS DOJhttps://t.co/9BCrWqNt59 pic.twitter.com/EeNxkPBktz

— Rep. Matt Gaetz (@RepMattGaetz) November 17, 2021
He continued that the Justice Department was trying to instill the belief in Americans that anyone not "totally on board" with what the White House was doing was considered a domestic terrorist. He used the example of parents on school boards, referring to the instructions AG Garland recently gave to federal police to investigate incidents of violence at board meetings. Many people saw this as an attempt to censor parents wishing to speak out on key educational issues, such as critical race theory (CRT).
Gaetz also referenced Inspector General Michael Horowitz (an Obama appointee) who recently conceded law enforcement was becoming too political.
Does Gaetz have a point?
Copyright 2021, RepublicanReport.org