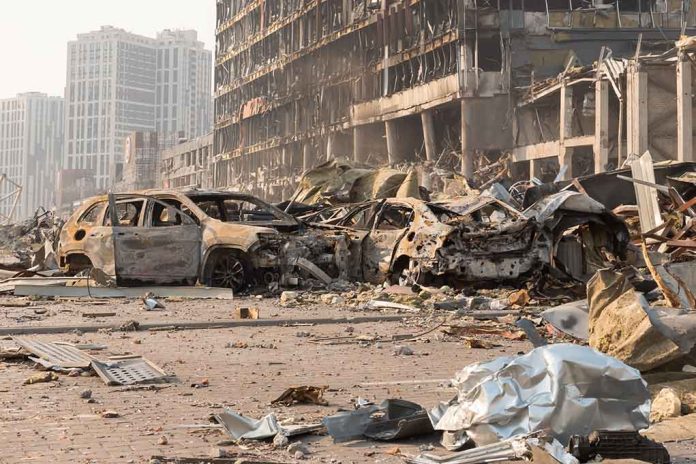 (RepublicanReport.org) – In the early days of Russia's invasion of Ukraine, Ben Hall was reporting from the embattled country on behalf of Fox News. Now, he's detailing his fight for survival after his brush with death when the vehicle he was in got hit by incoming fire in Ukraine.
Benjamin Hall's great new book is out now – Saved: A War Reporter's Mission to Make It Homehttps://t.co/Kdob0nGHbf

— Mark R. Levin (@marklevinshow) March 17, 2023
Hall spoke about his experience in Ukraine during the extended version of "Sacrifice and Survival: A Story From the Front Line" on Fox Nation. Just a little over a year ago, on March 14, 2022, Hall and his crew were on the outskirts of Kyiv, the Ukrainian capital. They heard shelling but decided it was far enough away that they were safe to continue filming.
However, all of their lives changed when Russian shells hit their position, killing Oleksandra "Sasha" Kuvshynova, a Ukrainian journalist, and Fox News photojournalist Pierre Zakrzewski. Hall mentioned the crew was in a vehicle at a checkpoint there was an explosion directly in front of them. While they attempted to flee, they were hit by a shell before they could.
Hall, who has written a book, "Saved: A War Reporter's Mission to Make it Home," about the incident and his recovery, recalled everything going black, mentioning he "wasn't just concussed," he "was out." What finally inspired him to get moving and try to save himself is an image of his daughter that popped into his head.
Hall details his significant injuries from the attack. He describes how his leg was "dangling off below the knee," and was later amputated. He no longer has the ability to use one of his hands and an eye. Despite the condition he was in, he didn't think he was going to die.
The Fox News correspondent has since undergone nearly 30 surgeries, including the amputation of his leg and his other foot. However, he keeps pushing forward. He credits his wife and three daughters for giving him the courage to do so.
Copyright 2023, RepublicanReport.org