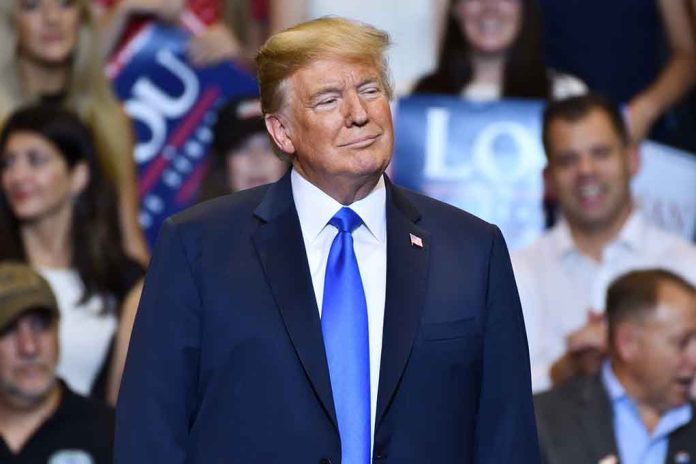 (RepublicanReport.org) – Former President Donald Trump was once one of the biggest topics at Fox News. While he remains a popular choice of discussion for the network, Fox has mentioned it intends to move on from his style of politics. Perhaps that's why Trump's latest numbers have come as a bit of a shock to those who work at the network.
The Trump Train is Rolling
The former president, who announced his 2024 candidacy a week after the midterms, is gaining steam and picking up support along the way. A recent poll from Fox News gave respondents 15 declared and potential 2024 Republican candidates to choose from. The results of the poll were so astonishing, they even shocked the very conservative Fox News.
Only two candidates even broke into double digits, Trump and Florida Governor Ron DeSantis. Meanwhile, former Vice President Mike Pence rounded out the top three with only 6% of the vote. The top two Republicans aren't what comes as a surprise. What's shocking is the disparity between Trump and DeSantis. The former president gained an astonishing 11% from the last poll, more than doubling his lead over his biggest rival in DeSantis.
Trump previously polled at 43%, beating the Florida governor's 28% by 15 points. However, the latest Fox News poll shows the former president has support from 54% of respondents. Meanwhile, as Trump support increased, DeSantis lost support, slipping from his previous 28% to only 24%. Former Representative Liz Cheney (R-WY) and former US ambassador Nikki Haley each received only 3%. Texas Governor Greg Abbott was the only other candidate to gain more than 1% of support, earning 2%.
A Lot of Race Left
Trump's popularity shouldn't come as a surprise as he gets a lot of air time, much like he did in the 2016 election. The former president has an established national base, whereas someone like DeSantis doesn't have that luxury and has to build one. Perhaps, if and when the Florida governor does announce he's running for president, he will gain more support. However, he'll face an uphill battle as Trump continues to blast him and attack his character.
It's also worth mentioning there's still a lot of race for the candidates to run between now and the primaries. A lot can change in a short time. However, the former president has already earned several endorsements, which largely plays into favorability. The fight is far from over for DeSantis if he chooses to enter the race, but winning the GOP nomination won't be easy. Though he seems to stand the best chance at beating Trump to do so.
Copyright 2023, RepublicanReport.org