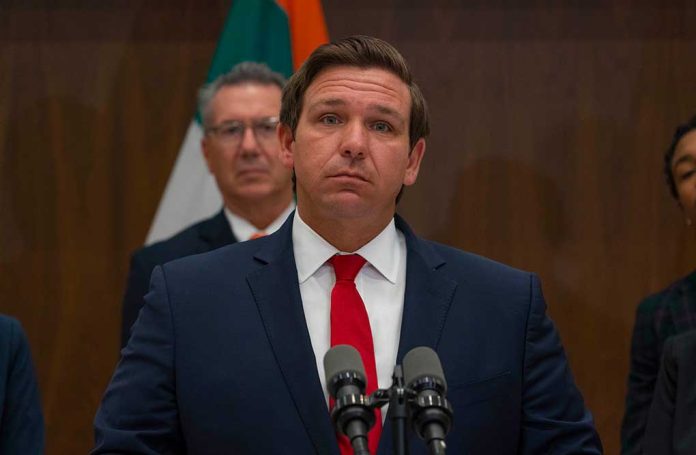 (RepublicanReport.org) – There's no question that former President Donald Trump is anxious to win the Republican Party's nomination. He jumped into the race just a week after the midterms and has been laying into his potential opponents ever since. Florida Governor Ron DeSantis (R) has found himself at the top of Trump's political hit list. A Fox News host has come forward to urge the Florida governor to respond to the continued verbal beating.
Jesse Watters Calls on DeSantis to Hit Back at Trump: 'Ron's Gotta Come Out and Say Something' https://t.co/BQMbThd6Es via @mediaite

— Brian Craig 🇺🇸 (@BrianCraigShow) March 29, 2023
During a recent airing of "The Five" on Fox News, Jesse Watters asserted that Trump was beating DeSantis to a pulp. The host explained that at one point, he believed it would be best for the Florida governor to take the hits and not respond. However, Watters feels differently now. He explained that DeSantis is suffering, and has been quiet about it.
Watters noted that if he were the Florida governor, he'd start hitting back at the former president, explaining that if he continues on the course he's currently on, Trump isn't going to let up. Then, by the time DeSantis does make an announcement about his 2024 presidential intentions, he'll be wounded. The Fox News host said if that's the case, DeSantis would be going into the primary race at a disadvantage.
The Florida governor did deliver a slight blow to the former president, noting he didn't have any experience with paying off adult film actresses, something that co-host Jessica Tarlov mentioned. However, DeSantis was the subject of criticism after taking a shot at Trump, putting him in a tough situation. Does he allow the former president to continue to drag his name through the mud, or does he stand up for himself and face the fury of Trump's supporters?
DeSantis, who is considering taking on Trump, is largely seen as the former president's main contender and is popular among Republicans. Perhaps, if he plays his cards right, he could carry the party's nomination and take on whoever Democrats put forward in 2024.
Copyright 2023, RepublicanReport.org