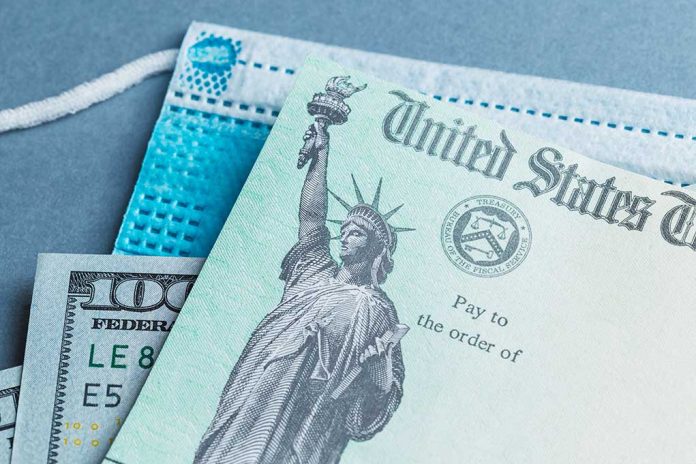 (RepublicanReport.org) – At the beginning of the pandemic, a stimulus check was one of the tools the Trump administration used to keep low-income families financially sound. The CARES Act sent $1,200 checks to families, and further payments went out in December 2020 and March 2021, the third of these occurring under the Biden administration. Collectively, qualifying taxpayers received a minimum of $3,200 from the three payments.
Now, it looks like the federal government might be about to get out its checkbook for the fourth time.
Are We Really Getting More Stimulus Money?
Various advocacy groups have appealed to lawmakers to legislate for more stimulus money. Some are even asking for recurring payments of as much as $2,000.
Certain Democratic lawmakers have listened to the call. In March 2021, 21 Democratic US senators sent a letter to President Joe Biden to appeal for ongoing payments, as well as "automatic unemployment insurance extensions." This came in advance of months of debate over the Build Back Better act, which ultimately failed to get past the 50-50 Senate last year because of opposition from moderate Democratic Sens. Joe Manchin (D-WV) and Kyrsten Sinema (D-AZ).
In the absence of definitive movement on stimulus payments from the federal government, some states have decided to step in to help their residents. Democratic California Governor Gavin Newsom recently approved checks for about two-thirds of Californians, while Florida and Texas both gave the green light to bonus payments for teachers.
Why Might More Checks Be Necessary?
While the worst of the COVID-19 pandemic is hopefully behind us, many Americans are still struggling. The Omicron variant of the virus has made movement restrictions necessary in some parts of the country again, hurting businesses and keeping some people out of work.
Another reason people are pushing for ongoing stimulus money is the discontinuation of Child Tax Credit payments. Between July and December, eligible families received monthly payments totaling up to $1,800 under the terms of the American Rescue Plan. However, the enhanced Child Tax Credit program is currently on hold, and families did not receive payment in January, though they can claim the remainder of 2021's credit on their tax returns.
Inflation is another consideration. With the prices of consumer essentials like gas and groceries skyrocketing, partially because of pandemic-related factors, some analysts feel families need extra money.
Is It a Good Idea?
While economic trouble might be part of the reason stimulus checks are on the table, it's also the reason why they might not be the best idea. Our economy is already struggling with inflation; dumping in more cash will help people survive more easily in the short run but will eventually push prices higher.
Do you think President Biden and the Congressional Democrats will push for another stimulus check?
Copyright 2022, RepublicanReport.org