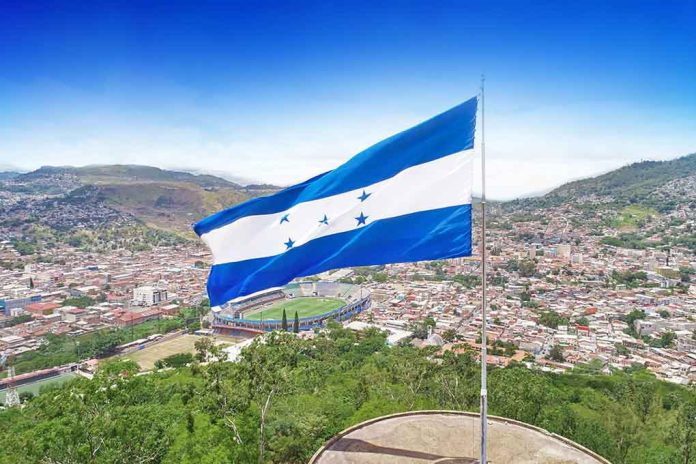 (RepublicanReport.org) – The former president of Honduras was extradited to the US on Thursday, April 21. Juan Orlando Hernandez faces charges of collaborating with drug gangs to boost his political career, but as a head of state, he was untouchable by US law enforcement. Now, prosecutors want to see him in court.
Alleged Drug Connections
Juan Orlando Hernandez was elected as president of Honduras in 2013, on a tough law and order platform. He took office in January 2014 and was re-elected in 2017 after the country's supreme court changed the law to allow a second term.
In 2017, Hernandez's brother Juan Antonio "Tony" Hernandez was arrested in Miami on charges of helping a Mexican cartel ship drugs into the US. He was convicted in October 2019. President Hernandez condemned the conviction, claiming Tony had been jailed "based on testimony from killers" – but US prosecutors had already revealed President Hernandez himself was now being investigated over the same drug-smuggling conspiracy.
Juan Orlando Hernandez denies all the charges against him and says that while in office he cooperated with US anti-drug operations. Now, he claims, drug traffickers are targeting him as revenge for that cooperation.
US attorney general Merrick Garland says Hernandez's extradition is part of a "years-long" investigation into drug-trafficking infiltration of the Honduran government, but President Hernandez did seem to cooperate willingly with the US while he was in office. In 2015, the US Justice Department accused a Honduran banking family of laundering money for drug traffickers; the Hernandez administration responded by forcibly closing the family's bank. During the Trump administration, Hernandez also agreed to take in migrants who arrived at the US border, although that agreement never went into operation and was scrapped by President Biden.
As president of Honduras, Hernandez had diplomatic immunity and was safe from American law enforcement. However, in February he left office — and the US immediately suspended his visa and asked for his extradition. On February 14, his residence in the Honduran capital Tegucigalpa was surrounded by local police and DEA agents, and the next day he surrendered and was arrested. On March 16, a judge approved his extradition to the US.
Extradition
Hernandez appealed the decision, but now his appeals have run out. On April 21, he was brought to the US on a DEA plane and formally indicted on narcotics charges. The next day, he appeared in a virtual court hearing and was charged with using his influence as president to protect drug smugglers, including giving them access to radar data from the Honduran military. Hernandez continues to claim his innocence; what will the jury decide?
Copyright 2022, RepublicanReport.org