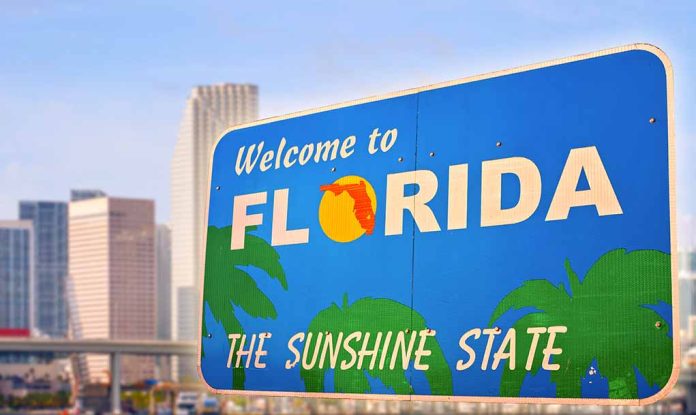 (RepublicanReport.org) – The American Legislative Exchange Council (ALEC) recently compiled a report called Rich States, Poor States. The compilation includes data from the past decade and uses performance rankings based on each state's gross domestic product (GDP), absolute domestic migration, and non-farm payroll employment. According to the ALEC report, Florida was one of the top-ranking states in the union.
The data put the Sunshine State at number one for economic performance rank and number nine in its economic outlook. The state earned the top slot for performance due to ranking number five in its GDP, first in domestic migration, and fourth in its non-farm payroll employment. The data collected spanned from 2011 through 2021. ALEC stated it chose those particular categories because state policy heavily influences the variables. Among the top five for performance behind Florida were Utah, Arizona, Idaho, and Colorado.
Florida finishes first for economic performance over past decade | Just The News https://t.co/nRvbhytWAU

— John Solomon (@jsolomonReports) April 14, 2023
As for outlook rankings, the ALEC report makes this prediction based on 15 state policy variables, including personal and corporate income tax rates, property taxes, sales tax, minimum wage, worker's compensation, and inheritance tax. The state ranked number one in personal income tax, inheritance tax, and the right-to-work — relating to optional union membership. The factors bringing the state down to number nine for outlook included Florida's minimum wage, remaining tax burden, and the state's liability system.
Over the 10-year period, GDP rose 66.25%, over 1.6 million people migrated to the state, and non-farm payroll employment increased over 25%, securing the number one spot for Florida in economic performance. According to Just the News, GDP grew 14% in 2021 under state Governor Ron DeSantis (R) — a stark difference from the state's average of between 4% and 6% per year.
If DeSantis decides to run for president in 2024, will voters consider his performance in Florida when casting their ballots? Do you believe the Sunshine State will remain economically strong?
Copyright 2023, RepublicanReport.org