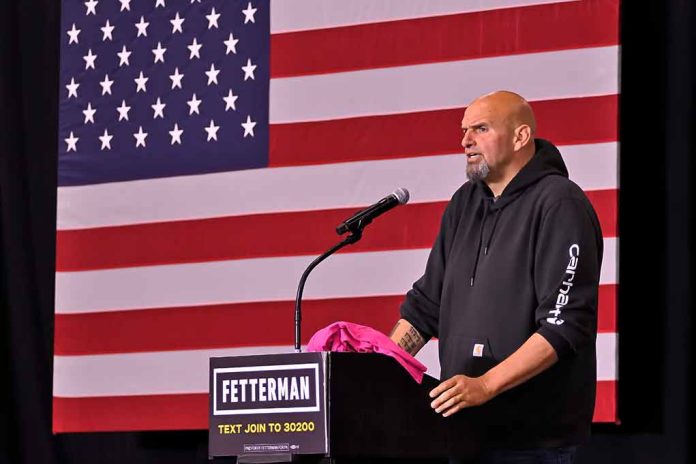 (RepublicanReport.org) – Sen. John Fetterman (D-PA) claimed he would clean up his look if he got elected to Congress. An old interview Fox News dug up revealed the lawmaker insisting he'd adhere to the Senate's dress code when the time finally came, but his appearance in the months to follow has raised questions about his ability to keep a promise.
Fetterman's disregard for the rules has made headlines for nearly a year now, but the Pennsylvania senator hasn't seemed concerned. Despite his previous claims, he's continued to attend work in gym shorts and a hoodie whenever he can get away with it, even after taking the congressional seat in January.
The lawmaker has gone as far as to vote through the chamber door to avoid having to don a dreaded suit and tie. The Associated Press states that his staff had been insistent about his wearing the formal attire, which he "famously hates," before his stroke and mental health breakdown. Although he refuses to dress up most of the time, he has worn a suit to attend committee hearings.
Comfort is Fetterman's only excuse for pushing the dress code, which requires men to wear suits and ties while on the floor. Now, likely a result of the senator's insistence on casual attire, Congress has dropped the dress code — but only for lawmakers. Visitors and other staff members must still come to the floor wearing traditional business attire.
Lawmakers have expressed mixed feelings about the change. Senate Minority Leader Mitch McConnell (R-KY) said most Republicans felt dressing up for work was important, and they would continue wearing suits. He didn't speak for everybody. Sens. Josh Hawley (MO) and Chris Murphy (CT) are both reportedly looking forward to a more comfortable working environment.
As for Fetterman, he feels the need to point out that whether he's wearing a $5,000 suit or "dresses like a real person," his clothing choices shouldn't make any difference in how he votes.
Copyright 2023, RepublicanReport.org