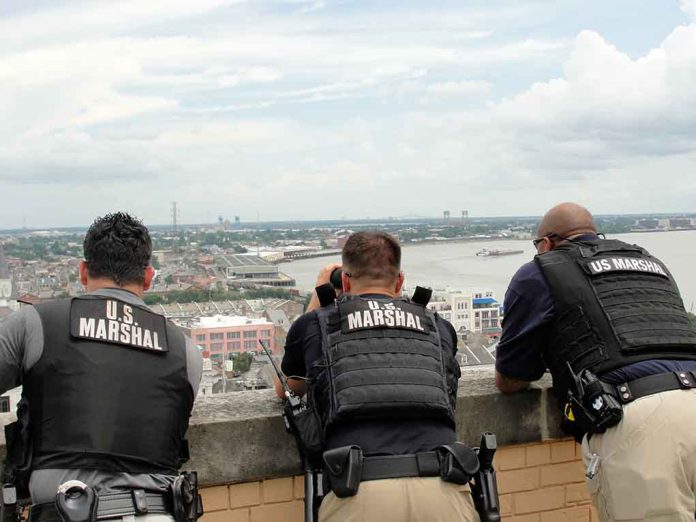 Over 1,500 ARRESTED In Federal Operation!
(RepublicanReport.org) – Violent crime has been a persistent problem across the United States over the last number of years. Law enforcement agencies have struggled to keep pace with criminals, but there have been some notable victories for the police. One such win came on Wednesday, July 6, as Attorney General Merrick Garland and other officials announced the culmination of a month-long operation by federal agents across the country.
Operation North Star was a scheme targeting violent offenders in 10 major cities, including but not limited to Chicago, New York, and Washington, DC. Federal agents managed to place more than 1,500 fugitives under arrest, including 230 individuals suspected of homicide and 131 wanted for sexual assault crimes. This is the largest-scale operation of its kind in recent times; similar operations have been more inclined to target smaller areas.
The attorney general, deputy attorney general & director of the U.S. Marshals Service assembled today to tout a fugitive operation as the nation grapples with surging violent crime & mass shootings. None of them took questions from the DOJ press corps. https://t.co/Y22C8CDsMM

— Mike Balsamo (@MikeBalsamo1) July 6, 2022
This news comes following the horrific July 4 mass shooting in Highland Park, Illinois, in which seven people lost their lives. Garland, who grew up just 20 minutes from Highland Park, according to the Wall Street Journal, referred to the tragedy in his address.
Do you think the news of this success signals movement in the right direction, or is a change of approach still required by the Biden administration to tackle the issue of violent crime?
Copyright 2022, RepublicanReport.org