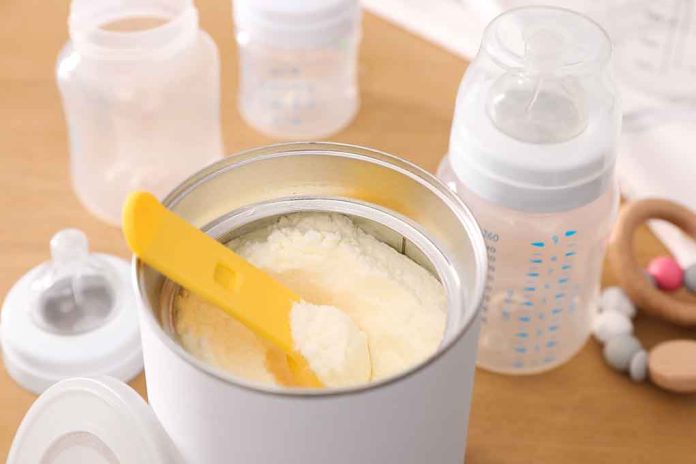 FDA Devising NEW PLAN for Baby Formula – Big Changes On the Way?
(RepublicanReport.org) – A baby formula shortage has been just one among the many economic issues that have plagued the United States this year. Following a contamination incident at an Abbott Laboratories facility in Michigan, two children reportedly died, the plant was forced to stop operating, and its stock was recalled. Currently, there is a months-long backlog in the supply chain, with American families forced to find alternatives when feeding time comes for their babies.
In an effort to mitigate this issue, the Biden Administration has moved to permanently increase the amount of foreign-produced baby formula on the American market.
Foreign Baby Formula Is Here To Stay
According to a statement from the Food and Drug Administration (FDA) on Wednesday, July 6, the agency is currently trying to come up with a program to allow overseas producers of baby formula to keep selling their wares on the US market after the current shortage has passed. The FDA allowed foreign entities to ship formula to America as an emergency response measure, but no permanent framework for this market currently exists.
The supply chain for baby formula would almost certainly benefit from diversification of this kind. A Wall Street Journal report noted it's extremely vulnerable as it currently exists. The market is extremely reliant on Abbott and Reckitt Benckiser. Collectively, the pair were behind approximately 80% of the sales of baby formula in the United States in 2021.
The FDA's plan would see the federal government actively assist foreign baby formula makers with their efforts to market their wares to US consumers. This would include technical help as well as cooperation with stakeholders to come up with a plan for the distribution and retailing of foreign formula in US stores.
How Did We Get Here?
The problems with the baby formula supply chain began before the contamination issue arose in Michigan. The WSJ report pointed to the general supply-chain crisis that started to grow in the wake of the COVID-19 pandemic as the genesis of the problem. Strict regulations around the import of foreign baby formula may have also helped contribute to the crisis.
Production of baby formula began again in Abbott's Michigan plant in June, under the supervision of the FDA. However, production was delayed again shortly after the reopening due to storms.
Is This the Right Thing To Do?
Do you think this is the right move? Should the US government offer its assistance to foreign enterprises in this way, or would it be better off focusing on efforts to diversify the production of baby formula on US soil?
Copyright 2022, RepublicanReport.org