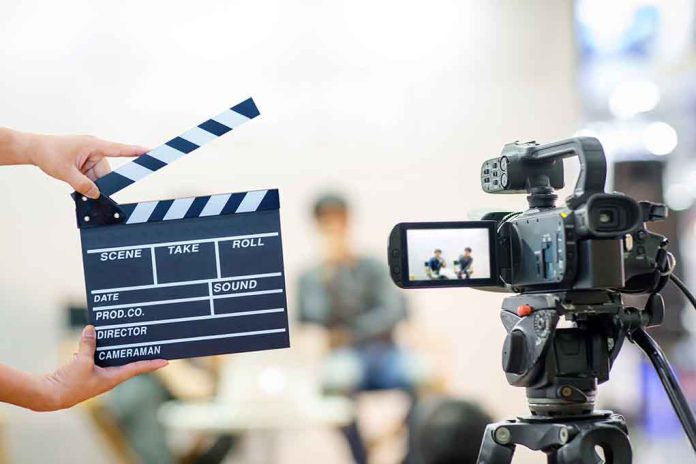 (RepublicanReport.org) – Known for many years as Aunt Becky on "Full House" and "Fuller House," actress Lori Loughlin strayed far from her character portrayal and spent some real time in the big house. In 2020, the star and Mossimo Giannulli, her husband, pleaded guilty to conspiracy charges after bribing a college so it would admit her daughter to the school. Their time behind bars was relatively brief, and now Loughlin is reportedly eager to get back to her craft.
On January 23, Deadline reported the actress was starring in a romantic comedy alongside actor James Tupper called "Fall Into Winter," which premiered on January 28. The outlet stated this is her first rom-com role since the scandal. Loughlin is also one of the producers, along with several other professionals.
Take a peek behind-the-scenes on the set of #FallIntoWinter with Lori Loughlin & @MrJamesTupper! Watch the PREMIERE this Saturday, January 28 at 8/7c, on #GreatAmericanFamily! #WelcomeHome ❄️ pic.twitter.com/C0xY1OpPNJ

— Great American Family (@GAfamilyTV) January 24, 2023
Executive Producer Brian Bird said Great American Family (GAF) was about "second chances," and he was happy to extend that ideal to the actress who had already paid her debt to society.
After her sentencing, Loughlin reportedly released a video apologizing for her actions. She said she made a bad decision out of love for her daughter but that it only made it look like the young college student couldn't make it on her own. The actress promised to do what she could to "redeem" herself, pay for her mistakes, and "make amends."
In addition to her prison sentence, the star had to fork over money for a large fine, was subject to two years of supervised release, and had to complete hours of community service.
During the court proceedings, Loughlin's lawyer stated the star's career was "in ruins," but it seems that fact was only temporary. Since Bird was willing to bring her back into the fold, it seems she will have another opportunity to put her acting skills to use.
Copyright 2023, RepublicanReport.org