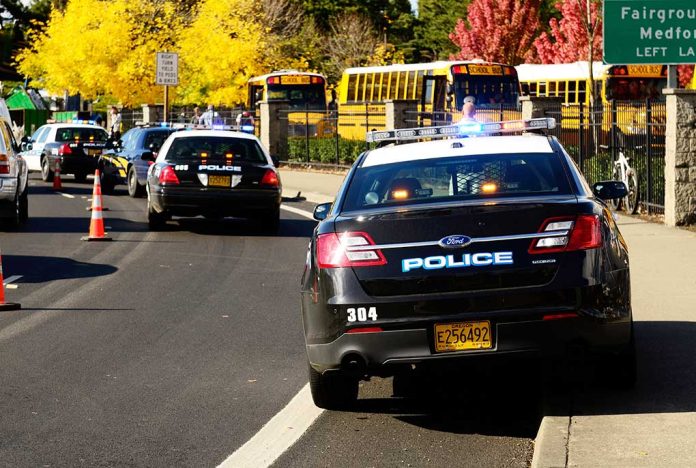 False Shooting Report at Texas School Terrifies Families
(RepublicanReport.org) – Since the mass shooting at Robb Elementary School in Uvalde, Texas, earlier this year, the state has been on high alert over the risk of a similar event occurring again. A recent false alarm took place at Thomas Jefferson High School in San Antonio on Tuesday, September 20. As a result, a large number of panicked parents and police officers descended on the building.
How Events Unfolded at Thomas Jefferson High School
The San Antonio Police Department (SAPD) received a call about a potential shooter in the school around 1 p.m. on Tuesday, leading 58 SAPD officers and 29 officers from the San Antonio Independent School District (SAISD) to rush to the school. School officials placed the building on lockdown, shutting students inside their classrooms with the lights off.
Parents began arriving at the school after receiving messages from their children about the situation. A number attempted to gain entry despite the enforced lockdown, leading police to restrain some individuals. However, there were reportedly no arrests. One man punched through a window, injuring his arm and requiring treatment.
According to some reports, it was eventually discovered that a number of students had been involved in a fight. However, all of those involved denied using or showing a gun at any stage.
Officials from the school say they will revise their reunification and notification procedures in light of the incident.
The Lasting Effects of the Uvalde Shooting
The elevated level of panic that accompanied this false alarm comes after a horrific shooting that took place in Uvalde on May 24. That incident resulted in 19 students and 2 staff members at Robb Elementary School losing their lives after an 18-year-old gunman entered the school and opened fire with an AR-15-style rifle. It was reportedly the deadliest school shooting ever to occur in Texas and the worst in the United States since the Sandy Hook massacre in Connecticut in 2012.
The recent incident at Thomas Jefferson High School is not the only one of its kind to take place in recent weeks. On September 13, Houston's Heights High School also received an false active shooter threat resulting in a lockdown. Schools in states across the country, including California, Oregon, Kansas, Arkansas, Illinois, and others, have also had to respond to false alarms of this nature recently.
How do you think school districts should manage this new heightened fear around mass shootings so that false alarms become less of an issue moving forward?
Copyright 2022, RepublicanReport.org