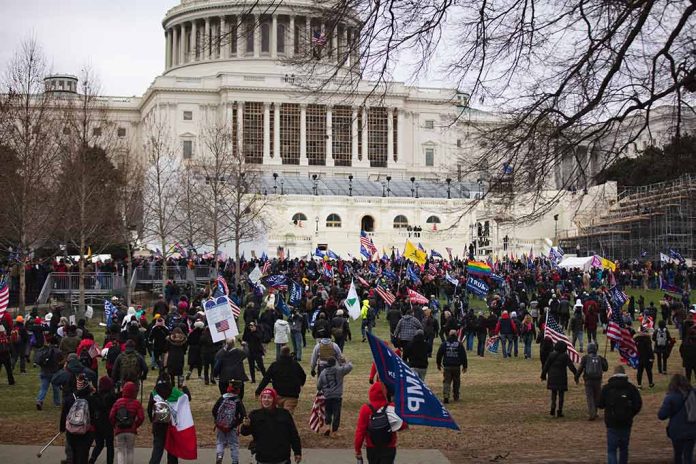 (RepublicanReport.org) – Henry "Enrique" Tarrio, former national chairman of the Proud Boys, just received the stiffest sentence so far in connection to the January 6 Capitol Building riot. The 39-year-old Miami, Florida, resident will spend the next 22 years behind bars, followed by 36 months of supervised release. A jury found Tarrio and three of his co-defendants guilty of seditious conspiracy and several other felonies on May 4, 2023.
Connections to January 6
The New York Times reports that Tarrio ended up in police custody in January 2020 for burning a "Black Lives Matter" banner the group had stolen from a church the previous month. Authorities also charged him with possessing two high-capacity gun magazines, which police found on him during his arrest. It led to his removal from Washington, DC, just days before the protests.
Tarrio wasn't physically at the US Capitol Building on January 6, but reportedly continued to direct his men from the sidelines. According to a US Department of Justice press release, he and three co-defendants had founded an offshoot of the Proud Boys called the "Ministry of Self Defense," which took credit for the Capitol breach. Specifically, the co-conspirators had assembled a group of "rally boys" — people willing to become physically violent for their cause — to storm the building and prevent the certification. Nearly 200 people marched in solidarity with Tarrio's co-conspirators.
According to the Department of Justice (DOJ), Tarrio's men "put more boots on the ground" during the riots than any other group. It added that the Proud Boys played a vital role in triggering the January 6 event, and they used Tarrio's sentencing as an example of how seriously the justice system views those who would conspire against the peaceful transfer of executive power.
Other members suffered harsh punishments as well. Ethan Nordean received the second highest, so far, at 18 years, with the next longest going to Joseph Biggs, who received 17 years. Another conspirator, Zachary Rehl, got 15 years, while Dominic Pezzola, who broke a window for rioters to enter the building but wasn't involved in the event's actual planning, will be serving 10 years.
Tarrio and the Proud Boys
Tarrio assumed charge of the Proud Boys in 2018 after founder Gavin McInnes stepped down. As an avid Trump supporter, he immediately had his Miami tee-shirt printing business make a batch that read, "PROUD BOYS STANDING BY" when the MAGA leader called on the group by name during a 2020 presidential debate and asked its ranks to "stand back and stand by." According to The New York Times, the Proud Boys consider themselves the "foot soldiers for the right," creating sometimes violent conflicts over left-wing issues like pandemic restrictions, critical race teachings, and LGBTQ+ events.
Recent sentencing raises questions as to whether others connected to the January 6 events will also face harsh punishments.
Copyright 2023, RepublicanReport.org