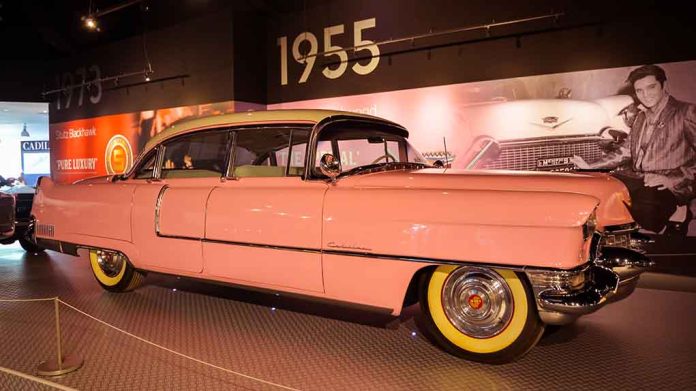 (RepublicanReport.org) – Born in Tupelo, Mississippi, in 1935, Elvis Presley was best known for his musical talents, lifting his upper lip, and swiveling his hips up on stage. Add in his myriad of greatest hits and sequined suits, and you've got the king of rock and roll. But, Elvis had a passion that many don't know about: he loved cars.
Elvis was not only a collector but also known to gift people with vehicles, even to those he didn't know. The artist's personal automobile of choice was the Cadillac, but he had a variety of others, which now mostly reside in Graceland at his car museum.
Elvis reportedly bought his first pink Cadillac in 1955, but it only lasted a few months before catching fire. He quickly replaced the vehicle with a Cadillac Fleetwood Series 60 from that year, had it painted light pink, and named it "Elvis Rose." Elvis ended up giving the car to his beloved mom, Gladys.
Pink Cadillac #elvis #Graceland #memphis https://t.co/HURAhvo3Lq pic.twitter.com/FVajo4FM6c

— Davide Bedogni (@davbedog) June 27, 2019
The king of rock and roll was in several movies during his career. One of them was "Blue Hawaii," which opened with a scene showing his very own red 1960 MGA 1600 MKI being driven down a stretch of road. The sporty roadster sits on display at his Graceland home.
The go-to car for the elite in the 1970s was the Stutz Blackhawk, outpacing the Cadillac and Rolls-Royce in popularity among those who could afford the wheels. The bi-colored car had a unique shape with gold plating, leather seats, and genuine wood interiors. The unique vehicle was professionally preserved in 2014. According to Graceland, Elvis' 1973 Stutz was the "last car he ever drove."
Copyright 2022, RepublicanReport.org