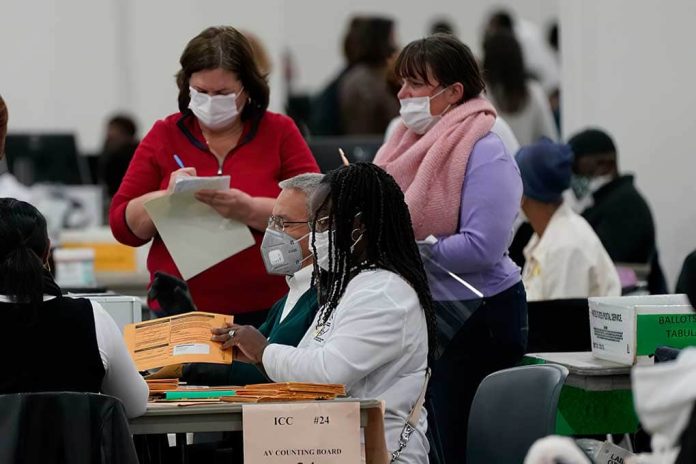 (RepublicanReport.org) – It's almost a year now since the first whispers of the words "election fraud" arose across the United States. Conservatives began to wonder whether our voting systems were robust enough to be reliable after looking at the increasingly frantic efforts of the Democratic Party to oust then-President Donald Trump from office. Might someone actually try to rig a presidential election to get Trump out of Washington?
Following the election itself, this type of speculation exploded. Doubts about whether everything unfolded as it should have remained, and Maricopa County, Arizona, has been the setting for many of these uncertainties. Now,  a group has initiated a new private investigation into the way votes were cast in the county last year, and it's making big claims.
Final Election 2020 Grassroots Canvass Report
Liz Harris is a realtor from Arizona. A dedicated supporter of Donald Trump, she launched the Voter Integrity Project in December 2020 and has now released the results of an investigation she conducted into voting practices in Maricopa County. Her 11-page report, as shared by The Gateway Pundit, makes the shocking claim that there were 173,104 lost votes out of the county and a further 96,389 "ghost votes."
Arizona Republicans have been quick to celebrate Harris' findings, with a number calling for election authorities in the state to decertify the 2020 results out of Maricopa County with immediate effect. In the report, Harris calls for a ban on mail-in voting, which she says is "ripe for fraud."
How Reliable Are Harris' Findings?
According to an AZ Central fact-checking article, Liz Harris may have missed the mark when discussing some of her findings.
Firstly, her claim that mail-in ballots came from vacant lots may have been erroneous. According to AZ Central, an aerial shot of one of the properties in question showed that it did, in fact, contain a residential building.
Another potential issue is Harris' use of representative sampling. Her claims that over 170,000 lost votes and over 96,000 ghost votes stem from interviews with volunteers conducted with around 500 Arizonans. As critics have pointed out, this sample may be insufficient to draw reliable conclusions about Arizona's voting population, which is in the millions.
Also, as she's a realtor whose work was not apparently independently verified by anyone with a qualification in statistics or public administration, Harris' methods may have fallen short of the standards required for a valid poll.
However, that's not to say Liz Harris hasn't unearthed valuable (and worrying) findings. How much of this evidence will the US Senate consider when it sits down to conduct its own audit?
Copyright 2021, RepublicanReport.org