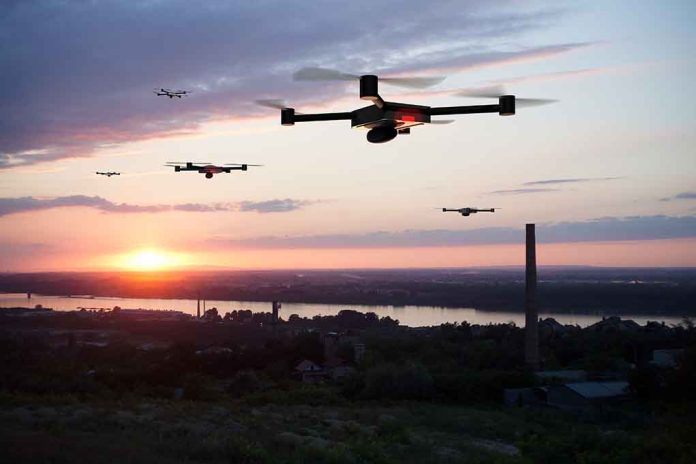 Food Delivery Drone Causes Mass Blackout After Crash Landing
(RepublicanReport.org) – Drone technology will change the way the world delivers products. Companies such as Walmart. Amazon, and Alphabet, the parent company of Google, already operate drone services in some of the world's most competitive markets. Unfortunately, these devices crash just as humans do, as one neighborhood in Australia learned the hard way.
If you're wondering why your food delivery might be taking too long, perhaps it's tangled in a powerline.

A delivery drone operated by the company Wing crashed into powerlines in Browns Plains yesterday causing a widespread blackout to 2,000 residents. pic.twitter.com/6x8NJWw307

— 10 News First Queensland (@10NewsFirstQLD) September 30, 2022
On September 29, an unmanned aerial vehicle (UAV) crashed into power lines in a residential neighborhood in Brisbane, Australia. The craft carried a food delivery order bound for a resident of the village of 2,000 when it landed on the town's grid and burned up until there was nothing left.
The drone was out on a routine food run under the command of Wing, a fulfillment service owned by Google parent Alphabet. The company operates successfully in Brisbane, offering services to 100,000 homes and completing more than 200,000 deliveries.
Wing is also trying its luck in Texas, in the Dallas-Fort Worth area. Tens of thousands of homes could be in the range of service to bring all of their daily, weekly, and even monthly needs directly to their door. Drone services tend to work best in populated areas without the hustle and bustle of the big city.
What do you think about the drone accident? Do you think it's something to worry about?
Copyright 2022, RepublicanReport.org