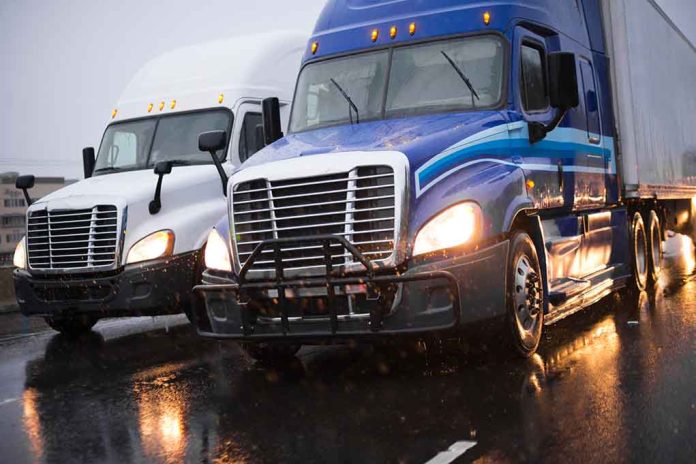 Dozens of Bodies FOUND – A Horrifying Discovery
(RepublicanReport.org) – Since President Joe Biden entered the White House, the country's southwest border has become a major crisis area. Individuals in troubled situations in Central America are attempting to make the dangerous trip across the border — and in some cases, this can have disastrous consequences. This is exactly what happened in a tragic situation on a Texas road earlier this week.
On Monday, June 27, the San Antonio Police Department revealed at least 46 people died inside a tractor-trailer during an apparent human trafficking attempt. The death toll has since risen to a staggering 53 individuals since then, according to reports. Authorities discovered the 18-wheel vehicle on a roadway in the city that evening after an individual working nearby heard someone crying for help inside. When emergency workers arrived on the scene, the door of the vehicle was ajar, with one body outside and dozens more inside.
More than 40 migrants were found dead inside a tractor-trailer in San Antonio, Texas, the city's fire department said, in what appears to be one of the most deadly recent incidents of human smuggling along the U.S.-Mexico border https://t.co/H6blZZM7rl pic.twitter.com/PmPhsFYQNX

— Reuters (@Reuters) June 28, 2022
Reports say the truck was left in a remote area during scorching hot weather. The San Antonio area is currently undergoing a heatwave with temperatures hitting 103 on Monday. Though the police reportedly made three arrests following the discovery of the vehicle, it's not clear at this point what potential involvement those individuals had in the trafficking offense.
The Department of Homeland Security (DHS) is now in charge of the investigation into this tragedy. Authorities initially brought 16 survivors, including four minors, to nearby hospitals. As of June 29, 11 people were still in the hospital.
Copyright 2022, RepublicanReport.org