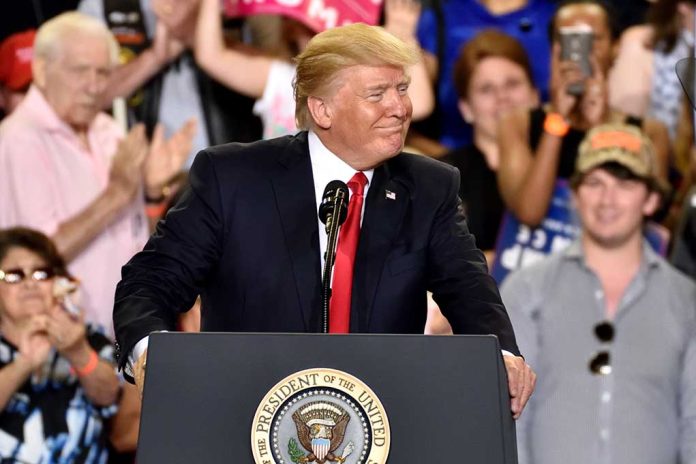 (RepublicanReport.org) – Former President Donald Trump wants a second term in the White House, and the way the polls are moving, he might just get it. New data released last weekend shows the chance of Trump winning the 2024 GOP nomination is rising. He's now solidly ahead of all his likely rivals — and a split anti-Trump vote could be the final boost he needs to ensure victory.
2024 National Republican Primary

Donald Trump: 48%
Ron DeSantis: 28%
Mike Pence: 7%
Nikki Haley: 3%
Marco Rubio: 3%

Head-2-Head:
Donald Trump: 55%
Ron DeSantis: 45%

Harvard/Harris Poll | Jan 18-19 | RVs https://t.co/c6TBCttMby pic.twitter.com/PCsgSXCsAI

— InteractivePolls (@IAPolls2022) January 20, 2023
A new Harvard-Harris poll published on January 20 shows that, of all the likely Republican candidates for the 2024 presidential nomination, Trump is the most popular by a huge margin. If GOP voters faced a hypothetical eight-way contest, 48% would vote for the former president. His only real rival, Florida Governor Ron DeSantis (R), is lagging far behind at 28%; third-placed former VP Mike Pence would get just 7% of votes.
Of course, it's unlikely eight candidates will run when six of them would so obviously be wasting their time. In a two-way race between the favorites, the gap narrows dramatically — but Trump would still win comfortably with 55% of Republicans supporting him, while DeSantis could count on 45%. The popular governor hasn't even confirmed that he plans to run yet, but if he does, he'll be hoping for a one-on-one with his former mentor. While Trump is still far ahead in that scenario, it's at least possible that if the former president runs a bad campaign, and DeSantis runs a good one, he could edge into the lead.
Despite Trump's solid lead, some strategists are warning that he can't afford to relax. Harris polling expert Mark Penn says Trump has collected pretty much all the supporters he's likely to get, while DeSantis has the potential to build a larger base between now and the election. Still, right now, the former president has reasons to be optimistic about his prospects of a return to the top job.
Copyright 2023, RepublicanReport.org