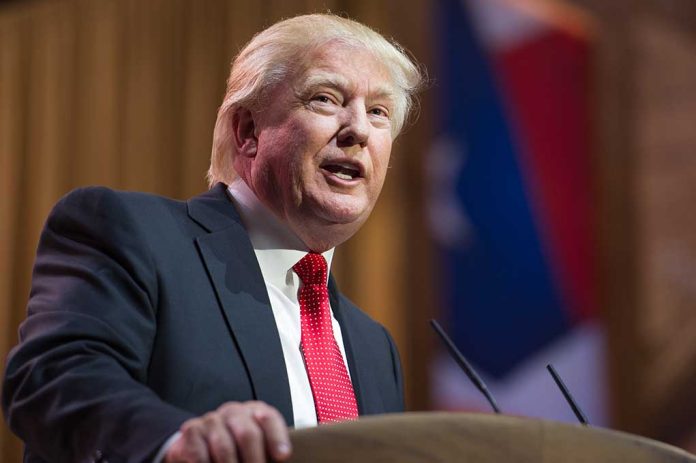 (RepublicanReport.org) – As lawmakers and potential candidates inch closer to the primaries and, eventually, the 2024 general election, they're looking to pick up endorsements to help boost their campaigns. Despite much of the GOP expressing a desire to want to move on from the former president, Donald Trump has landed several blockbuster endorsements.
Piling Up
The former president has already gained over 50 endorsements, seriously outpacing the competition. Larry Kudlow of Fox News recently spoke with Mark Simone, a radio host, and Joe Concha, a Fox News contributor, about Trump's current endorsements, mentioning that he has earned seven of them from Florida alone.
Meanwhile, the former president's biggest threat, Florida Governor Ron DeSantis (R), has only grabbed three endorsements, including one from the Sunshine State: Representative Laurel Lee (R-FL), his former secretary of state. Former Vice President Mike Pence and Republican presidential candidate Nikki Haley each have one endorsement as of right now.
Trump recently gained support from yet another Republican congressman from Florida after Representative Vern Buchanan (R-FL) announced to Florida Politics he was endorsing the former president, making him the eighth conservative in the state to do so. Buchanan's announcement comes after DeSantis attended a meet-and-greet in DC, which some believe was an attempt to gain traction for a 2024 presidential bid.
As of now, the Florida governor hasn't declared his 2024 candidacy, though it's speculated that he will. Of course, there's still a lot of time before the primaries, during which DeSantis could make a comeback.
Backing Trump
Despite a messy midterm election, after which many blamed the GOP's weak performance on the former president, and DeSantis' easily winning his reelection bid in Florida, Trump is still picking up far more support. Representative Buchanan asserted the former president was the right guy for the job if America wants to get its "economy back on track."
It's not just Trump's policies that are helping him gain support, it's his approach to doing so. Unlike DeSantis, who has used delegates to contact potential boosters, the former president personally calls them, adding a personal touch to his campaigning.
However, nothing is written in stone. Even with a lead in endorsements and in the polls, Trump has begun to slip. A recent survey from Yahoo News and YouGov shows the former president still has a comfortable lead over his biggest challenge with 52%, compared to DeSantis' 36%. However, according to the Washington Examiner, a separate Yahoo News-YouGov poll from a couple of weeks ago had Trump beating the Florida governor by 26%, 57-31.
Copyright 2023, RepublicanReport.org