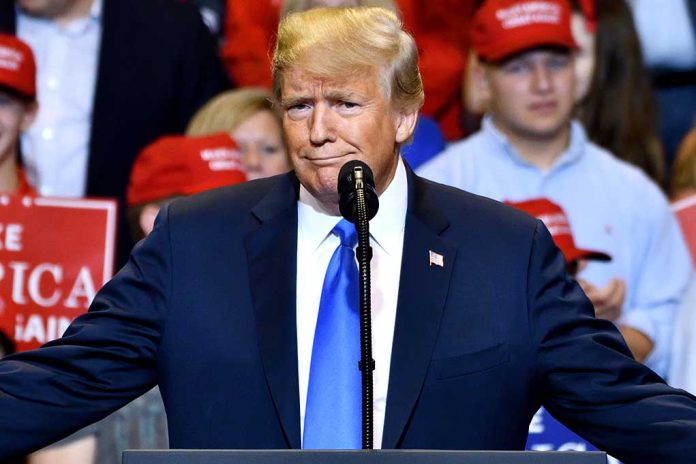 (RepublicanReport.org) – Former President Donald Trump recently took a trip to Iowa, which has become a reliable state for not just Republicans, but the MAGA movement as well. During his visit, the former commander-in-chief named those that will be part of his leadership team for the 2024 election. The trip marks his first campaign stop in the Hawkeye State.
Trump Makes First Iowa Stop For 2024 Campaign, Announces Leadership Team https://t.co/p9Hpk3tdCu via @DailyCaller

— Chris 🇺🇸 (@Chris_1791) March 13, 2023
Trump named Eric Branstad and Republican State Representative Bobby Kaufmann as his senior advisors. Meanwhile, the former president appointed Marshall Moreau as his state director and Alex Latcham as his early states director. Despite making few appearances on the campaign trail, Trump remains the frontrunner for the Republican presidential nomination, per national polling, according to The Daily Caller. His only real competition is DeSantis.
At his event in Davenport, Iowa, Trump touted his administration's accomplishments and went on the warpath against Florida Governor Ron DeSantis (R). Trump's campaign also mentioned a new round of endorsements he's received from several Iowans in the eastern part of the state, including Kauffman, former US Representative Rod Blum (R-IA), and former Acting US Attorney General Matt Whitaker. GOP State Representatives Brad Sherman, Steve Bradley, Anne Osmundson, and many others also lent their endorsements. State Senators Charlie McClintock (R) and Jeff Reichman (R) have also endorsed the former president.
The former president's campaign stop in Iowa comes after other prominent Republicans such as Nikki Haley, who has declared her 2024 candidacy, Senator Tim Scott (R-SC), and former Vice President Mike Pence have visited Iowa or have plans to do so in the future. Governor DeSantis, Trump's most significant challenge so far despite not announcing his candidacy, also took a trip to Davenport, Iowa, just days before the former president. Perhaps it's a sign of what is yet to come in a Republican primary that's quickly heating up.
Copyright 2023, RepublicanReport.org